Wrestling Hygiene: Defense Bar Soap for Wrestlers
I recently bought Defense Soap for my son who wrestles. Him and I have both been using the soap for a couple of weeks. I have heard from a few different parents that defense soap is a natural remedy for wrestlers that can aid in preventing the MRSA staff infection and ringworms.
Before I started using the soap, I had read a clinical study by PetLabs Diagnostic Laboratories. The study said that the active ingredients of defense soap contained antibacterial properties and in lab cultures prevent bacterial growth.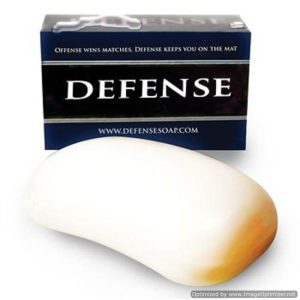 My Thoughts
The wrestling soap has a herbal smell to it. You can really smell the Melaleuca tree oil. I started using it because I had poison ivy from mowing lawns. It lathers really well and seems to clean just like any other bar of soap.
The one thing I would like to say is that my poison ivy( at least I think it was poison ivy) went away in 2 days. I didn't treat it with any medicine… I only used defense soap. Whether it was a rash, a skin infection, or poison ivy, it went away.
I asked my son what he thought about the soap. Right now he is playing football and he has been getting acne on his chest and shoulders. His exact words were "Dad, all I know is that my acne went away. I really like it. Can you buy some more?" He said he uses the defense soap to treat his skin conditions and then uses body wash to make him smell better.
Both my son and I will continue to use this product. Although defense soap doesn't make anti-fungal or antibacterial claims, it seems to do a great job for us. I think this is a great product for all wrestlers to use as a natural remedy for skin infections.
Main Ingredients
The two main ingredients in the soap is tee tree oil and eucalyptus oil. According to webmd.com, tee tree oil is used as a topical antiseptic and antifungal treatment for skin conditions such as acne, athletes feet, and jock itch.
Eucalyptus oil has been used for centuries to treat infections. I've read from a few different sites that this oil has antibacterial properties.
Who Shouldn't Use Defense Soap
According the the defense soap website, anyone that is pregnant, has high blood pressure, or epilepsy should not use this soap. It appears that this soap is definitely marketed toward the young male athlete.
Most wrestlers should be able to use this soap without any side effects. If you have any health concerns, you should consult a doctor before using the soap.
How to Use
You would use this soap just like any normal soap. Put the soap on your body, get a good lather, and rinse it off. A lot of the reviews I read, had mentioned a strong menthol smell. I would recommend using a secondary body wash after treating any skin conditions to get a better smell.
One of the main complaints about defense soap is the price is a little high and the bar doesn't last very long. I was reading the 200+ reviews on Amazon and one buyer suggested using a loofa to make bar last longer.
Reviews on Amazon
Approximately 19% of users had negative things to say about this product. The negative reviews complained the soap didn't work, dried their skin, too expensive, and had a strong smell.
I took the time to read all reviews on Amazon. 81% of the reviews were positive. Out of the 217 reviews, 177 of them were positive. They used the soap to treat a variety of skin conditions and most of them indicated they would buy it again.
Click Here to Read the Reviews on Amazon
Alternatives
I found several different types of antifungal soap. They all had the same basic claims about treating skin conditions. Some were a little cheaper and some were a little more expensive.
If you do not want to buy the soap, I would recommend buying pure tee tree oil and mixing it with a body wash that you like. I have read that using pure tee tree oil will get better results and the soap will last longer. Tee tree oil needs to be diluted, so make sure you follow directions on the label.
I recently heard from a couple of wrestling parents about Selsun Blue Medicated Maximum Strength Dandruff Shampoo. After hearing from a couple of wrestling parents, I googled "selsun blue treat ringworm". I found several articles that talk about how selson blue can treat skin infections. I was told to use it like a body wash or a bar of soap. Use it on the affected area and let it set for a few minutes. I went to Amazon and found several reviews about how it good for your skin.
Click Here to Check Out Selsun Blue on Amazon
What Are Your Thoughts?
Do you have some feedback? We would love to hear from you. Post a comment and let us know what you think. If you enjoyed the article, feel free to browse the products below.
Stay Updated
I hope you enjoyed this article and give some thought to your personal hygiene as a wrestler. Enjoy the article? Use the links below to share with other wrestlers.