Pay for Wrestling Tournaments Online – Custom Wrestling Site
Advantage of Paying for Wrestling Tournaments Online
As a club wrestling club admin, how much time do you spend collecting tournament entry fees from parents? How much money does your wrestling club lose every year from tournament fees that go uncollected? I'm guessing that if your reading this, you would say "A LOT"!
When we first created the wrestling website for clubs, I noticed that wrestling clubs were losing a couple of thousand dollars every year from tournament fees they never collected from parents.
I decided to add a feature to allow parent to sign their child up for a wrestling tournament directly from their wrestling clubs website. In addition, I gave the parent the capability to pay for tournaments via paypal. This was immediately a huge with the wrestling clubs I support.
How do Parents Sign up for a Wrestling Tournament
The parent must be registered on the site. Once they are logged in, they go to the "Pay for Wrestling Tournaments " page.

After logging in, the are brought to a screen similar to this.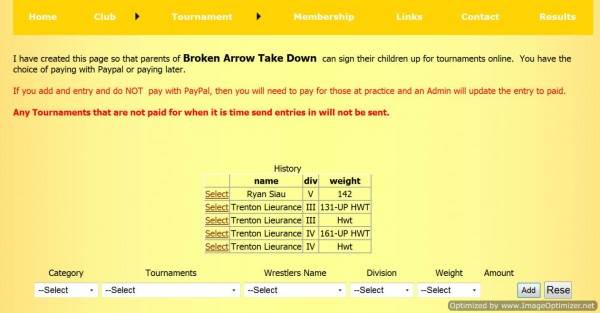 From this screen a wrestling parent will select all of the necessary options. once completed the parent will click the add button. When the wrestling parent is finished adding tournaments. They then have the option to pay with Paypal or pay later.
What makes this feature so great?
The whole process is completely integrated into your wrestling site. They select only the information you have entered when you set the site up. Once they pay sign up for a tournament, you can instantly see when someone has signed up for a tournament, because you get an email.
There is another admin screen where you can see everyone that has entered for a selected wrestling tournament. From this screen you can copy and paste the tournament entries or you can email them directly to the wrestling tournament director.
We hope you enjoyed this article. If you are looking for a custom wrestling web site, feel free to contact us and we can get your site up and running in a couple of days.