Upload Tournament Flyers and Documents – Custom Wrestling Site
A good custom wrestling website should have the ability to upload documents for the wrestling parents.
One of the aspects of running a wrestling club is providing your wrestling parents with standard documents, such as insurance release, code of conduct, order forms, on a yearly basis. Along that same line a good wrestling club will also provide the wrestling parents with tournament flyers.
I'm guessing that if you're reading this that you have to manually print each document and make copies. After that you have to track down each parent and give them the necessary documents.
Is There a Better Way to Run a Wrestling Club?
If you have a custom wrestling web site, you simply upload the documents and tournament flyers. Once that is done you simply email the parents from your wrestling web site and tell them the new documents are on the website.
You simply go to the admin screen to maintain wrestling documents and tournament flyers.

That will bring you to a similar screen like his.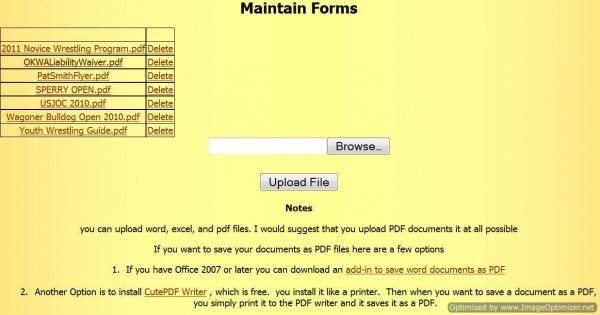 From this screen you can add or delete documents that you want your wrestling parents to see. Once you have added a document or a tournament flyer, the wrestling parents can go to club>club documents and forms.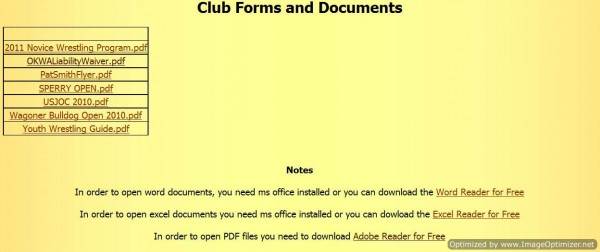 Advantages of Uploading Documents
Now the parent can open a form anytime they need to. It makes communicating with a wrestling club so much easier. All of your wrestling documents are stored in one central place. There are alos links to free word, excel, and pdf readers if they don't already have them.
We hope you enjoyed this article. If you are looking for a custom wrestling web site, feel free to contact us and we can get your site up and running in a couple of days. This wrestling website does so much you will wonder how you ever ran a club without it.