Asics Wrestling Bag Product Review
Today I am reviewing the ASICS wrestling bag. This wrestling bag allows a wrestler to hold everything he or she needs when going to a wrestling tournament. If you wrestle for any length of time, a gear bag becomes essential.
I bought this wrestling gear bag so that my son would be able to carry everything he needed when he attends wrestling tournaments. He was able to pack his best wrestling shoes, singlets, wrestling headgear, five Gatorade's, four sandwiches, numerous snacks, a small blanket, a pillow, and his headphones. After packing all of this, he still had room for more!
Here is my honest opinion of the Asics wrestling Bag.
ASICS Wrestling Gear Bag Features
Padded Shoulder Straps and Back Area for Comfort
Zip Pocket in Front for hold cell phone or other small items.
2 compartments inside the bag for keeping your wrestling gear organized.
Comes with a Tag so you can put your name on it.
The front has a mesh exterior for breathability.
Drawstring to keep everything in the bag.
Here are some pictures of the ASICS wrestling gear bag I'm reviewing. Click on the image for a larger view.
[foogallery id="5428″]
What I Like
Overall, the Asics wrestling bag is very well made. It seems to give a wrestler more than enough room to hold everything needed for a wrestling tournament.
The cost of the Asics wrestling bag is around thirty dollars. For the cost of the bag, the materials are made of durable material.

What I don't Like

My only gripe about the Asics wrestling bag is that the zippers and drawstring don't appear to be made to last several years.
During a wrestling season, wrestling bags will be used a lot. This means the bag will have a lot of wear and tear on it. It doesn't look like the wrestling bag will last more than two years. I think after one wrestling season, the straps, zippers, and drawstrings will wear out.
Is The Asics Wrestling Bag Worth Buying?
Do not expect Asics wrestling bags to last three or four years. I think it would be reasonable for this bag to last two wrestling seasons. If the wrestling gear bag lasts for two years, you got your money out of the bag.
I checked amazon and found 57 unbiased reviews about the Asics wrestling bag.
I would recommend buying this wrestling gear bag.
Found the review useful? Here's the super easy no-pain way you can help support future reviews! Read on…
Hopefully, you found this review useful. At the end of the day, I'm an active member of the wrestling community. I wrote this review from the viewpoint of an actual wrestler who has been using the Asics wrestling bags for the last year.
My wrestling reviews take a lot of time to put together, so it's a fair bit of work (and labor of love). I will gladly answer all the questions posted in the comments about the review –
If you found this review helpful in your purchasing decision, you can support future articles and reviews like this by using any of the links to purchase wrestling bags.
ASICS Gear Duffel Bag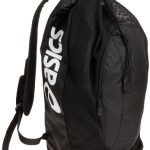 For about 25 dollars, this bag is a must have for any wrestler or anyone that wants a great gear bag.
See It on Amazon
Thanks for reading! And as always, feel free to post comments or questions in the comments section below, I'll be happy to try and answer them as quickly as possible. And lastly, if you felt this review was useful – I always appreciate feedback in the comments below. Thanks!
I hope you enjoyed the article and if you are in the market to buy Asics wrestling bags, please the links in this article to purchase your gear bag. Your loyalty helps keep this blog going.
Do you have some feedback about this review? We would love to hear from you. Post a comment or a review and let us know what you think about the Asics wrestling bags.