College Wrestling Scholarships – Essential Tips and Advice
College wrestling scholarships can be useful to cover school costs. If you're not prepared, an athlete may miss his or her opportunity to wrestle in college.
When my son was in his senior year of high school wrestling, he has started talking about wrestling in college. Up until then, I didn't think my son would wrestle in college. I started thinking and realized that I didn't have a clue on how to go about getting my son noticed by colleges.
I have done quite a bit of research. This post outlines everything I learned to help my son wrestle at the next level. I started my research about a year ago, and it took that long to put this article together. I hope this article will help parents and students achieve their goal of college wrestling.
Today I would like to talk to parents and high school wrestlers about how to get recruited for college wrestling. The end goal should be to get your son or daughter a wrestling scholarship.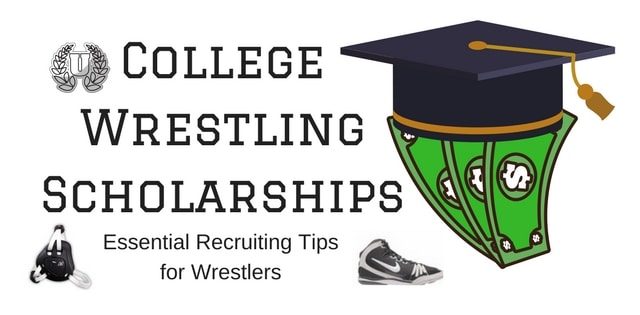 College Wrestling Scholarships Basic Information
This article is not focused on college wrestling scholarships for the multi-time state champions and the truly elite wrestlers.
If your kid is elite, then it's likely the top colleges are already recruiting your kid if their test scores and GPA are high enough.
Before I get started on how to get recruited, Here is some useful information I found while doing my research.
At the time of writing this article, there are 299 schools with wrestling programs. I included NCAA(div 1,2,3), NAIA, and NJCAA in my totals. Here is the breakdown.
Something you should also know. Full rides in college wrestling are not the norm. Thanks to the NCAA, wrestling is an equivalency sport. I'm not saying college wrestling scholarships don't have full rides, but most wrestlers don't get a full ride.
Each college has about 9.9 scholarships to hand out for about 30 wrestlers on a roster. So if your a parent(or wrestler) who is betting on getting a full ride in college, your better off to focus on academics.
If a kid wrestles in college, it better be because they love the sport. Any scholarships a wrestler gets just helps offset some of the costs, but these student-athletes will be expected to work hard on the mat and in the classroom.
Advice on Getting the Best Chance to Get Recruited
Does a Wrestler have the Skills to Wrestle in College
What types of wrestlers are coaches looking for?
I have talked to quite a few wrestlers. If you want to wrestle in college, you can always find a school and walk on.
In order to get any kind of college wrestling scholarship, you need to be at least a state qualifier. I know of one kid that qualified for state and received a small wrestling scholarship. I know of another kid that is a 4-time state qualifier and received a 50% scholarship. In order you get a better scholarship, you really need to be a state placer. If you're a state champion or multi-time state placer then that is even better.
You need to show significant accomplishments in high school or significant potential and showing continuous improvement in high school.
Make the ACT/SAT a Priority
A good ACT score is critical to getting a college wrestling scholarship.
Almost every college looks at the ACT or the SAT to determine whether to accept a student or not.
You can be a phenomenal athlete and not get accepted into a college because of low test scores. It happens every year. You see an outstanding wrestler who didn't wrestle in college because of low test scores.
Each school has a minimum score to accept a student-athlete. The coach has no control over this. If you can't get your test score to the minimum level, a coach will have to choose a different wrestler.
Start Taking SAT/ACT as Early as Possible
My son didn't take the ACT until he was a senior. In hindsight, I realize this was a mistake. I knew the test was necessary, but somehow it slipped past me.
I was so focused on helping him be a better wrestler and keep up his grades, that I didn't focus on test scores.
The college your child attends will care more about those test scores than their wrestling ability. In fact, a good test score can get your kid a better scholarship than wrestling alone.
I would highly recommend that you have your child start taking the ACT and the SAT as early as possible
In fact, I would suggest that your student starts taking these test as soon as the 8th grade… yes I said the 8th grade.
Why do I recommend this? The reason is that you can take these tests as many times as you want on the SAT and you can take the ACT twelve times. When you get your test scores back, you know where your child needs to improve and can take appropriate action to improve your wrestler's test score.
How to Improve Test Scores
My son needed to improve his scores to be eligible to be considered for college wrestling scholarships.
I started doing a lot of research. I looked at hiring a tutor, but the cost was prohibitively expensive, and there was no guarantee we would get a quality tutor.
Next, I started looking at prep classes. The classes were affordable, but they only lasted for a day or two. I didn't feel confident that these courses could raise his score.
After I excluded tutors and classes, I took a look at online prep courses.
I found several online courses. I spent a good 30 hours looking at every site. I ended up signing up with prepscholar.com. The course cost about $400 and was money well spent.
The first thing we did was to take a diagnostic test. The prep course looked at what my son missed and created an action plan with full lessons to improve in those areas.
My son had a little over a month to study, so he had cram pretty hard.
He couldn't take the ACT because of his wrestling schedule, so he took the SAT instead. He put in about 50 hours of study time over a month and improve his SAT by almost 300 points, which is the equivalent of raising your ACT by 4 points. If your child needs to improve their test score, take a look at prep scholar.
How to Find Test Sites
You don't need to take the college entrance exams at your high school. Both the ACT and SAT have websites you can find test dates and register for those tests at locations that are convenient for you.
The ACT website is http://www.act.org/. The cost of the test is $46 or $62.50 (with writing). If you cannot afford the test, you can apply for a fee waiver through your high school. You can only use two waivers total. You can request that the official test scores are sent to colleges of your choice. You can send scores to additional colleges for $13 to $16.
The SAT website is https://collegereadiness.collegeboard.org/sat. The cost of the test is $46 and $60 (with essay). fee waivers are available to low-income 11th and 12th-grade students in the U.S. or U.S. territories. Click here to learn more about fee waivers. You can request that your scores are sent to four colleges for free. It cost $11.25 to send scores to additional scores.
Every School will Want Official Scores
You cannot send a copy of your test score. Every college will want an "Official" test score. This means they want the test scores directly from the ACT or SAT.site. Make sure and select the schools you want to send them to. If you decide to send the scores later, you will pay a fee.
Get an Online Profile
An online profile is a must if your interested in college wrestling scholarships.
College wrestling coaches are limited on how many recruiting trips they can make. To improve your chances that a wrestling coach will notice you, you need to create an online profile. It's so much easier for a wrestling coach to monitor your progress if he can watch your wrestling videos online.
Some great sites for wrestling profiles are hudl.com and track wrestling. Each one of these websites has their benefits.
Hudl is excellent because you or your coach can upload your wrestling matches. You can even highlight some of your toughest matches and quality wins.
Track wrestling will list all of the tournaments that have you have wrestled in. This site also will contain your win-loss record as well notable wins over tough opponents.
I would suggest that you create a website. That way you can incorporate the data from these sites and add pictures. You should also include your child's wrestling resume, wrestling articles, and content to promote your child.
Video Every Match Your Wrestle
If your kid is interested in college wrestling scholarships, you need to record their matches.
As soon as your child starts their freshman year, you need to make sure that every match is on video. There are two reasons for this. The first is that your wrestler can watch the videos to improve as a wrestler.
The second reason is that this will allow you to build a video portfolio to send to wrestling coaches or post online. Recorded matches will give you a leg up on recruiting.
If your coach isn't videotaping the matches, then the parent needs to take charge of recording the wrestling matches.
Keep Track of Significant Opponents
When contacting wrestling coaches, you need to highlight the wrestlers your kid has beat. I have kept track of my son's big matches since he was in little league. I use his significant wins to create seeding documents for tournaments, and I shared that information with prospective schools.
Not every match is significant. You need to update their stats anytime your wrestler beats a state placer, state champ, nationally ranked wrestler, or opponents from other states.
Keep Your Grades Up
Grades and test scores have become more critical to getting recruited. Poor grades can be a deal breaker for a college coach that is interested in your child.
Nowadays, universities are looking for the whole package. They want an athlete that can wrestle and keep their grades up and graduate from college. Colleges will look at poor scores as a sign of poor work ethic. Stay on top of your school work to have a chance at a wrestling scholarship.
Attend Nationally Ranked Tournaments
The only way to be a better wrestler is to wrestle tough opponents.
Any decent wrestling coach should bring their squads to at least one nationally ranked tournament during the regular folkstyle season.
If your high school's wrestling schedule is weak, you need to address this with your child's wrestling coach.
One way to attend national tournaments is to participate in the open preseason and postseason competitions. You need to speak with your coach to make sure you are not violating the guidelines of your state. This a great way to sharpen your skills.
Wrestle in the Summer
Summer wrestling builds winter champions! Wrestling in the summer also increases your odds that college wrestling coaches will notice you.
I didn't use to think this was necessary, but most serious wrestlers are wrestling freestyle and Greco during the spring and summer.
I would suggest that you wrestle with your states USA wrestling association. My son has competed for Team Oklahoma for the last couple of years. It was one of the best decisions he made.
He went to Indianapolis, Fargo, and Daytona Beach. He wrestled the best kids in the nation. He didn't win every match but sharpened his skills and was noticed by a few coaches. Wrestle during the summer to increase your odds of securing a college wrestling scholarship.
Get Required High School Credits
The NCAA has stiffened up their requirements for athletes. Student-athletes will need to take specific courses to be eligible for wrestling in college.
I would suggest that you speak with your high school counselor. Don't wait till your child is a senior. Identify what classes need to be completed when your child is a freshman.
The NCAA has published a quick reference guide if you are interested.
Also, your wrestler needs to score well on the ACT or the SAT. Check out the link to the reference guide above. I would suggest that your child start taking these tests as a freshman.
I know a lot of kids like to take electives that are fluff classes, but these courses will not help your child be eligible for wrestling scholarships.
You might think about enrolling your child in some night classes to make sure they are eligible to wrestle in college when they graduate high school.
Write a Wrestling Resume
In the real world, people are competing for a job. This is why professionals create resumes. This tells employers why they should hire a specific person over other people in the same field.
Likewise, a wrestler is competing with other wrestlers from all over the nation for a wrestling scholarship. The resume should quickly tell prospective wrestling coaches about your child as a person and as a wrestler. It should show coaches why they should pick you over other great wrestlers.
I may write about this in the future, but I'm not going to cover how to write a sports resume today, but there are numerous sources on the internet. diycollegerankings.com has a decent post on sample resumes and letters.
Contact Wrestling Coaches
There are so many good wrestlers that it is easy not to be noticed by a wrestling coach. Also, college wrestling coaches are restricted when they can contact athletes. This doesn't stop parents from initiating contact. Reaching out to a coach is an excellent way for your child to get on a coaches radar.
I would suggest that you contact as many coaches as possible. Do not use the same letter for every coach. You need a specific letter for every coach. Find specific information about the schools and coaches. Here are a few specifics I would look for:
How long has the coach been coaching
Will he still be coaching when your child goes to that college
What type of majors does that school specialize in
Who is what your child's weight
Will your wrestler use a redshirt or have a chance to wrestle varsity early
What type of scholarships do they offer
What does the school cost to attend
When you contact a wrestling coach, you should include a summary of your child. This should include their GPA, test scores, notable wins and tournaments your child has done well at. This is a great time to point those wrestling coaches to your child's online athletic profile.
Attend College Wrestling Camps
Pack your wrestling bags and attend wrestling camps. Attending college wrestling camps will give the stand out wrestler a chance to sharpen their skills. Those same camps will provide you with an opportunity to get in front of wrestling coaches.
You cannot attend every wrestling camp that you are interested in. I would only participate in camps that your child is genuinely interested in attending.
I would suggest your kid start attending these camps during their sophomore and junior year in high school.
Choose Your Schools by Your Major
As a wrestling parent, I know you are focused on seeing your child be the best wrestler possible. Once your kid goes to college, wrestling is secondary to their education. The whole purpose of going to school is to get an education so they can have a career.
Before you start choosing colleges, you and your child need to try to figure out what they want to do when they graduate college. For example, there is no sense in wrestling at a school that specializes in medicine if your child wants to be a lawyer.
Once you identify schools with majors your child is interested in, then you start selecting the best wrestling programs from those schools.
Consider "Sister" Schools When Looking at Colleges
When looking at colleges, consider "Sister" School. These are out of state schools that will charge in-state tuition to residents of other states where those states have reciprocal agreements or the college decides to charge in-state tuition to neighboring states.
You would look at "Sister" schools if the schools in your state don't have a need at your kid's weight class or they have a major that your child is interested in. A lot of times the out of state schools can offer surprisingly good scholarships.
Don't Overlook the Military Academies
If your child is interested in the military and wants to wrestle, you should consider a military academy. Army, Navy, Air Force, Merchant Marine, and Coast Guard have wrestling programs which compete in the NCAA.
I've been told that their education is fully funded if you serve five years in the military as an officer.
Consider Trade Schools that Offer Wrestling
Someone in the wrestling community told me that several trade schools now offer wrestling. If you don't think college is in your child's future, you might consider trade schools.
If you can get some of your kid's education paid for and give him a trade, your child will be ahead in life. Here are some trade schools that offer wrestling. So far I found two trade schools that offer wrestling. They are Williamson College of the Trades and The Apprentice School. I will try to find some more trade schools and update the article in a few days.
Register with NCAA Clearinghouse
The NCAA clearinghouse helps athletes to certify that they are eligible to play Division I, II, and III sports. They review your child's academic progress, college entrance test scores, and verify that your child is following NCAA eligibility rules.
According to the ncaa.org frequently asked questions, you should register your child with the NCAA Eligibility Center at the beginning of their sophomore year in high school.
They have a free account for Div III and an account for $80 if you plan to wrestle Div I or II. Most colleges in the NCAA require that you register with the NCAA Clearinghouse. If you cannot pay the registration fee, you may apply for a fee waiver.
Don't Overlook the NAIA
when looking for wrestling scholarships, don't overlook the NAIA. A lot of times these colleges can offer substantial scholarships.
If you think you might wrestle at an NAIA school, you will need to register with the NAIA Eligibility Center. According to their site, high school seniors and transfers need to register to determine amateur eligibility. The fee to register is $80, but you may request a fee waiver for students with a demonstrated need.
Be Very Careful of Social Media
If you are a responsible parent, you are already monitoring your child's social media accounts. Take the time to educate your child on what should be posted online. Once something is published online, it's possible that it will stay online forever.
Coaches and universities will look at a students social media accounts and any related content on the internet. If your child or their friends are posting inappropriate material, this may be something that causes your child to miss out on a college wrestling scholarship.
These same rules also apply to parents of a wrestler. A prospective college will also look at a parents social media posts.
I would suggest that you examine the internet content that is posted online about your child. If there is anything that could be considered inappropriate, you need to try to clean up and delete anything you do not want college coaches to see.
Community Involvement
Wrestling coaches are looking for the total package when looking at offering a college wrestling scholarship. One of the ways that you can stand out from other wrestlers is to volunteer in your community. U.S. News wrote an article that Community Service Work is Increasingly Important for College Applicants.
Some community service ideas would be volunteering at your church, coach little league wrestling, homeless shelters, meals on wheels. These are just a few ideas. There are much more I haven't mentioned, so make sure and get involved with your community.
Stay Updated
What Are Your Thoughts on College Wrestling Scholarships?
Every little bit can help when it comes to getting a college wrestling scholarship.
In case you're wondering, my son, improved his test score and is wrestling for the Univerity of Central Missouri. He is a state champion and stayed on top of his grades and put himself in position to wrestle at the next level.
I think it was worth all of the hard work to see my son have the opportunity to go to a good college.
What am I Selling?
If you made it to the end of the article, you probably wondering what I'm selling. The answer is nothing.
I wrote this article to benefit the wrestling community. I wrote this purely from the perspective of a wrestling parent and my journey to get my son a wrestling scholarship.
What's Next?
If you would like to learn more about who I am, you can go to my about me page.
If you like the article, subscribe to our blog to receive our newest articles right to your inbox.
You can also like our Facebook page.
How to Support Us
We put dozens (if not hundreds) of hours man hours into each article. We love what we do and hope you benefited from this article.
Our goal is to provide value to the wrestling community.
You can support our work by simply reading our articles and using our affiliate links to buy products. If you buy something from a link we have on our site, we make a small commission at no extra cost to you.
Here is an explanation of what we do and how to support our continued work.
Tell Your Friends
If you enjoyed the article, be sure and share the article on Facebook and Twitter using the share buttons below.
Thanks for reading!
And lastly, if you felt this article was useful – I always appreciate feedback in the comments below. Thanks for reading and have a great day!