Best Wrestling Bags and Backpacks
The best wrestling bags will take a lot of abuse and are essential to keep a wrestlers gear organized.
Wrestlers have a lot of gear to keep track of at wrestling meets. This can include headgear, wrestling shoes, warm-ups, headphones, phones, wallets, snacks and street clothes. Wrestlers have to travel quite a bit to wrestling tournaments and duals. These gear bags are also used for anyone that is training for MMA fighting. A good wrestling bag is essential to keeping everything organized.
We have researched the top wrestling bags on the market and to help you find the best wrestling backpack for your wrestler.
Here is the list of wrestling bags we recommend:
1. ASICS Gear Duffel Bag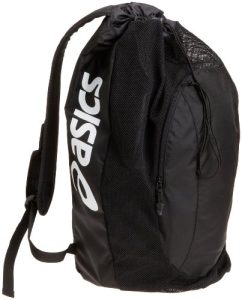 The ASICS gear bag is our top pick. We first bought this bag about 6 years ago. We have bought other bags, but we keep coming back to this bag as our favorite. We really like this bag because you can hold everything you need to travel for sports, go to the gym, or is great for light traveling. The only thing we don't like about the bag is that it could use more pockets. we checked out the reviews on amazon. The reviews were mostly positive. The 2 main complaints were that the bag was too large and that smaller pockets were needed for the better organization. The bag costs about $26, but it's money well spent.
See It on Amazon
Read the review
2. Brute Wrestling Bag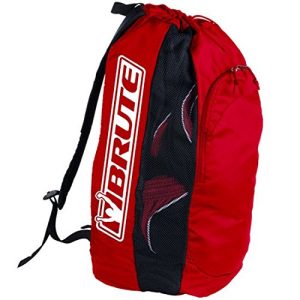 The brute came in 2nd place. The bag is similar to the ASICS bag, but it is quite a bit smaller. We like the id tag. We found out that a lot of wrestling parents have bought one for themselves after buying on for their kid. The bag has enough room to hold all of your stuff. We picked the brute bag as the runner-up to ASICS because it isn't as big as the ASICS. The bag costs about $35.
See It on Amazon
Read the Review
3. ASICS Aggressor Backpack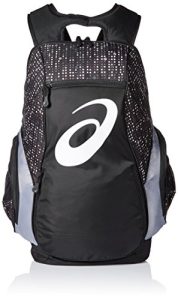 The aggressor backpack has mainly been used for volleyball, but we are seeing more wrestlers are using this bag. While the bag is well built were not sure if this bag will hold everything a wrestler needs for a tournament. The description amazon says it is very room and has room for a basketball. We have spoken to a couple of female wrestlers that really like this bag. The price of the bag is about $50. In our opinion, this bag is too small for wrestling.
See It on Amazon
4. Under Armour Trance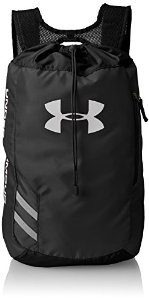 this bag is smaller that most of the other bags. After reading over 240 reviews, we have a mixed opinion on the bag. 74% of people who bought this bag said they loved it. People said that it had plenty of room was a great bag for wrestling and school. 26% of the people who bought this bag complained about the quality and design of t he bag. Typically under armor is know for a higher price tag( and higher quality). It looks like under armor has some work to do to make this bag worth $35.
See It on Amazon
5. Travel Sports Gym Backpack by Weweon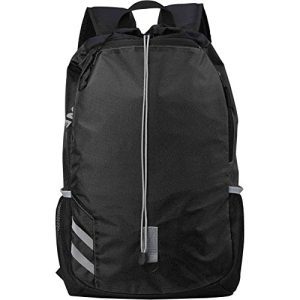 We normally see wrestling bags from the big brands, but we recently discovered a new brand this morning. The manufacturer is Weweon. It appears to be a bag that is similar to the Under Armor brand. There are about 38 reviews on this bag and 81% of them are positive. The cost of the bag is only $23, so it isn't terribly expensive. We purchased the bag this morning to do a full review.
See It on Amazon
6. Under Armour Undeniable Sackpack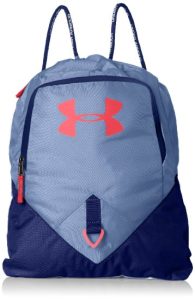 Here is another wrestling bag by Under Armor. The description says it is 19″ x 15″ x 2″. The bag appears to be a little smaller, but will still hold quite a bit of stuff. It appears that the bag will hold a pair of shoes, headgear, and some clothing. This bag is better suited for bringing gear for practice or clothes to the gym. The bag comes in 16 different color combinations. This bag has over 260 reviews with 77% of them being positive. The main complaint was the bag doesn't hold up well under heavy usage.
See It on Amazon
7. Adidas Gear Bag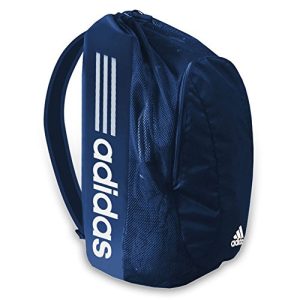 The Adidas wrestling bag is very roomy. We bought this bag a few years and it was used for school and wrestling. It worked great. We read 45 reviews on the bag. 71% were positive. The other 29% either complained the bag was too big or that the bag was wearing out after a year. I think some people have high expectations for a $25 bag. Numerous wrestlers said they like the bag and it comes in 6 different colors.
See It on Amazon
10. ASICS Unisex Adult Team Backpack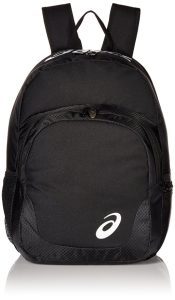 The ASICS team backpack has more than enough room for your gear. Its dimensions are 18″ high by 15″ deep. It has 5 interior pockets and 4 exterior pockets. 92% of the people who bought this bag had positive things to say. About 3% of buyers didn't like the size of the bag or the bag had quality issues. This bag runs about $30 and comes in 8 different colors.
See It on Amazon
Stay Updated
I hope you enjoyed the article about the best wrestling bags.
What's Next?
If you like the article, subscribe to our blog to receive our newest articles right to your inbox.
How to Support Us
We put dozens (if not hundreds) of hours man hours into each article. We love what we do and hope you benefited from this article.
Our goal is to provide value to the wrestling community.
You can support our work by simply reading our articles and using our affiliate links to buy products. If you buy something from a link we have on our site, we make a small commission at no extra cost to you.
Here is an explanation of what we do and how to support our continued work.
Tell Your Friends
If you enjoyed the article, be sure and share the article on Facebook and Twitter.
Thanks for reading!
And lastly, if you felt this article was useful – I always appreciate feedback in the comments below. Thanks!