Nike Freeks Wrestling Shoes Review
This is an unbiased Nike Freeks wrestling shoe review
This review was done by son Trenton Lieurance. He wrestles at Broken Arrow and he bought these shoe mid-season. He wrestled about 35 matches in these shoes. Now that the season is over, he is sharing his thoughts about his Nike Freeks.
Trenton is a veteran wrestler and wanted a pair of shoes to help him compete at the highest level. Read his unbiased product review to get an honest opinion of these wrestling shoes.
Nike Freek Wrestling Shoes Unbiased Review
I purchased these shoes after his Aggressor shoes finally wore out. He did a bunch of research. He is a senior and really liked the fact that numerous division 1 college wrestlers were wearing the Nike Freeks. I bought the shoe from Eastbay.
Today I will talk about the pros and cons of the Nike Freek wrestling shoes. Check out the article for an unbiased review of the Nike Freek wrestling shoes.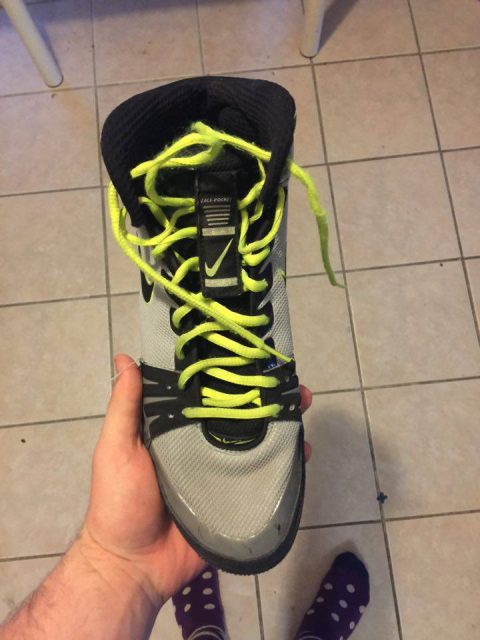 Comfort
When my son first tried the shoes on, he said they were tight, but felt comfortable. My son said the shoes were only tight for a couple of days. After the break in period, he told me that they were super comfortable. In fact, my son said they were more comfortable than his Aggressors. This is saying something since he wrestled about 150 matches in his previous pair of shoes.
I asked him about how light the shoe was and he told me that the Freeks were one of the lightest pairs of shoes he has worn. The shoes come with a lace garage that seemed to work pretty good, but like his other shoes, he tapes his laces.
Durability
As I said earlier, he has wrestled about 35 matches in this shoes and practiced in them every day for 3 months. So far the shoe is still in great shape. The only negative about the durability of shoe I noticed was that some of the stitching was coming loose. Having said that, the shoe is not falling apart. I think this pair of shoes still has another 40 matches left in them.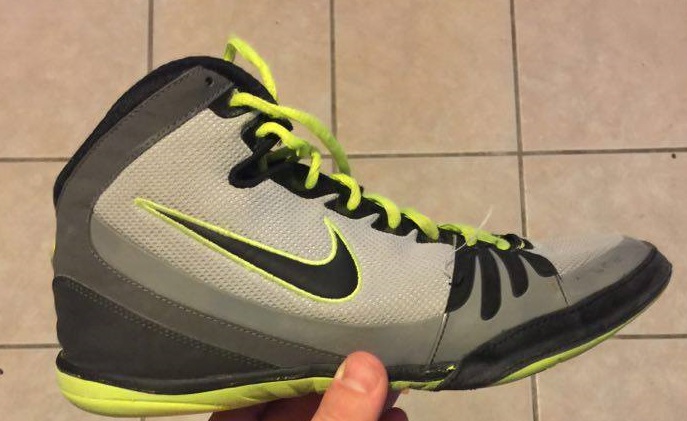 Sizing
When I asked my son about the size, he told me they ran true to size. He wears a lot of Nike tennis shoes and he said his Freeks fit about the same as a pair of tennis shoes. This was the same thing I had read on other sites.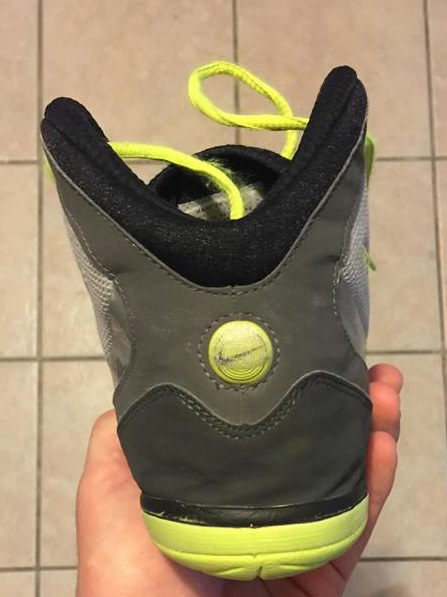 Grip
My son told me the shoe had a fair grip. He said he notice the grip of the shoe when he was taking shots. He told me the grip allowed him to power through on a double leg and quickly get a single leg and turn the corner. He told me that the shoe would slip sometimes when he was trying to turn an opponent to this back. He said this was mostly when the bottom guy stalled and the opponent was sweaty.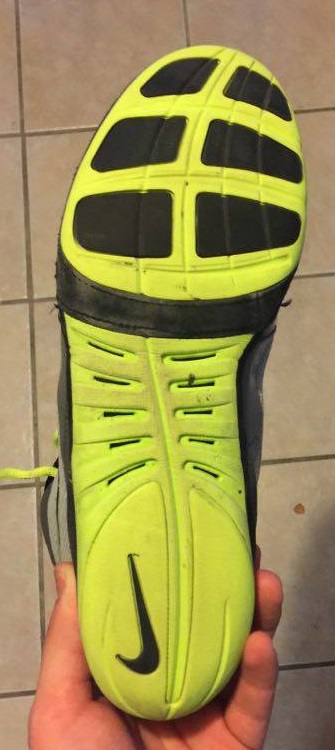 My Opinion
In the past, I haven't been a fan of Nike wrestling shoes. After buying the shoes, my son really like this pair of shoes. He said he really liked the colors and how comfortable the shoe was. He said it made it feel like he wasn't wearing any shoes at all.
Nike has done a great job with these shoes. The only negative my son mentioned was the laces would become loose when an opponent stepped on the shoe. The price is expensive at about $110, but the price is about the same as other good shoes we have reviewed. He wrestled a lot of tough matches in these shoes and they did great. On a side note, my son won a state championship wearing these shoes.
I would recommend these shoes for the serious wrestler.
Other Great Shoes
The Nike Freek is a great pair of shoes. We know that wrestlers may have different tastes in shoes. Here are a couple of pairs you can take a look at.
Aggressor – The Aggressor is a single sole wrestling shoe with great traction and ankle support. The Aggressor is our top pick of the best wrestling shoes. The Aggressor 3 runs about $90 and comes in 3 color combinations.
ASICS Men's Matflex 5 – If you are not looking to spend a lot of money the matflex is a very affordable shoe. The matflex is one of the most popular shoes because of the price. The shoe runs about $40 and is a great starter shoe for beginning wrestlers or weight lifting.
Stay Updated
Hopefully, you found this product review on the Nike Freek wrestling shoes useful. At the end of the day, I'm an active member of the wrestling community – and this review was written from a standpoint of my son using the product.
My reviews take a lot of time to put together, so it's a fair bit of work (and labor of love).
Where to Buy
If you found this review helpful, you can support our work by using our affiliate links to buy products. If you buy something from a link we have on our site, we make a small commission at no extra cost to you.
Here is an explanation of what we do and how to support our continued work.
Nike Freek Wrestling Shoe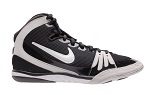 The Nike Freek is a great shoe. The price of these shoes run about $120.
We found these shoes on Eastbay for $119. Eastbay has free shipping and you have 90 days to return the shoes if they don't fit. We have also provided a coupon code that saves $18 off the price of the shoe.
15% off $75 Plus Free Shipping at Eastbay.com. Use Code LKS18A7E.
See It on Eastbay.com
What's Next?
If you liked the review, subscribe to our blog to receive our newest articles right to your inbox.
Tell Your Friends
If you enjoyed the article, be sure and share the article on Facebook and Twitter.
Thanks for reading!
And lastly, if you felt this article was useful – I always appreciate feedback in the comments below. Thanks!