ASICS Matflex 5 Wrestling Shoes Review
This is an unbiased ASICS matflex 5 wrestling shoes review.
The review was done by Broken Arrow wrestler Zac Cox. He bought the shoes at the beginning of the wrestling season and took the time to share his thoughts at the end of the season.
Since this was his first year of wrestling, Zac purchased an affordable pair of shoes to make sure he liked the sport. Read his unbiased product review to get an honest opinion of these wrestling shoes.
ASICS Matflex 5 Wrestling Shoes Review
This was Zac's first year of wrestling. He used the shoes on a daily basis in practice and matches. He told me that overall he really like the shoes. He purchased the shoes because they were only about forty bucks and thought they would be great shoes for a beginning wrestler.
After the wrestling season was over, I asked Zac to tell me what the thought about the shoe. Today I will talk about the pros and cons of this wrestling shoe. Check out the article for an unbiased review of the Matflex Wrestling Shoe.

Comfort
Zac said the shoes were initially tight on his fee for the first couple of days. After a short break in period, he said the shoe was very comfortable. He commented the matflex wrestling shoes were really light and allowed him to be quicker on his feet.
He did say that the shoes don't support the ankle very well and that he would have like to have a strap for the laces. He told me that he has strong ankles, so ankle support wasn't really a concern for him.
Durability
Zac wrestled in these shoes for five months. As you can see the shoes have held up to a full season of wrestling. The stitching is starting to come apart but the shoe is holding up. Zac wrestled about 12 matches as a JV wrestler. After talking with him, I'm not sure if these shoes would last an entire season of 50+ matches as a varsity wrestler.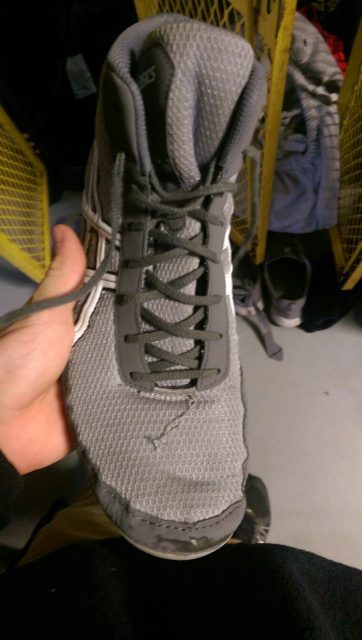 Sizing
Since he mentioned that the shoes were really tight for a couple of days, I went to Amazon to read their reviews. Almost of every review complained that the shoes ran too small.
Most of the reviews suggested going up half a size to a full size. The great thing about buying from Amazon is that they have a great refund/return policy. As with most of my reviews, I would recommend that you try the shoe on at local sports store, before buying the product online.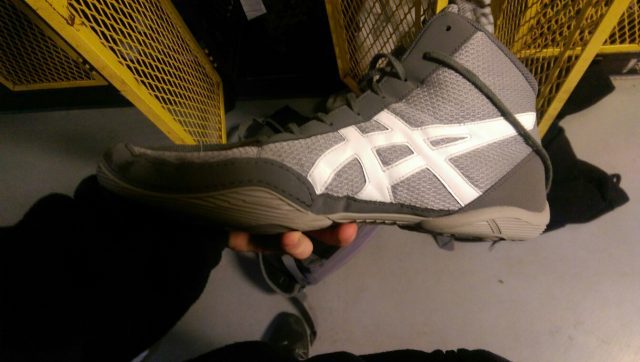 Great Grip
One area that Zac had a lot of positive things to say, was with the grip of the shoe.
He told me that the shoe had and excellent grip.
He went on to tell me that his foot never slipped during any matches and that he was surprised how well the shoe gripped the mat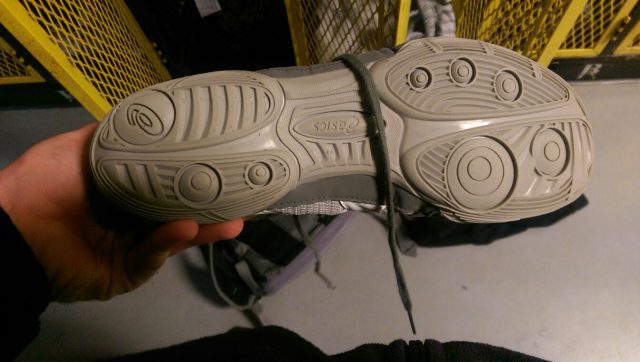 My Opinion
For forty bucks, this is a great shoe.
The matflex wrestling shoes are affordable and provide a wrestler with light shoes that have a good grip on the mat.
The only negative I could find was that the shoe is not extremely durable. I think it would fall apart on a veteran wrestler. This would be a great shoe for a younger or a beginning wrestler.
I found 134 customer reviews on Amazon. Customers had a lot of good things to say about the product. Overall Amazon has a rating of 4.7 stars out of 5.
I would recommend this wrestling shoe for weightlifting, wrestling practice, and any beginning wrestler who is not hard on a pair of shoes.
Stay Updated
Hopefully, you found this ASICS matflex 5 wrestling shoes review useful. At the end of the day, I'm an active member of the wrestling community – and this review was written from a standpoint of an actual wrestler using the product for an entire season.
How to Support Us
We put dozens (if not hundreds) of hours man hours into each article. We love what we do and hope you benefited from this article.
Our goal is to provide value to the wrestling community.
You can support our work by simply reading our articles and using our affiliate links to buy products. If you buy something from a link we have on our site, we make a small commission at no extra cost to you. If you want to learn more, you can visit our disclosure page.
Matflex 5 Wrestling Shoe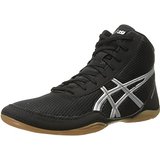 The Matflex 5 is a solid and affordable shoe for the money. I have found these shoes on sale for about $40.
Buy from Amazon
Tell Your Friends
If you enjoyed the article, be sure and share the article on Facebook and Twitter.
Thanks for reading!
And lastly, if you felt this article was useful – I always appreciate feedback in the comments below.