Nutrient Dense Foods for Wrestlers
Recently, A parent read my article on the best way to lose weight for wrestling. After reading the article, he sent me an email to ask my opinion about what are the best nutrient dense foods for wrestlers. I realized that most wrestlers might not know about which foods are nutritional powerhouses.
So today, I want to talk about which foods have the most nutrient value when a wrestler is cutting weight.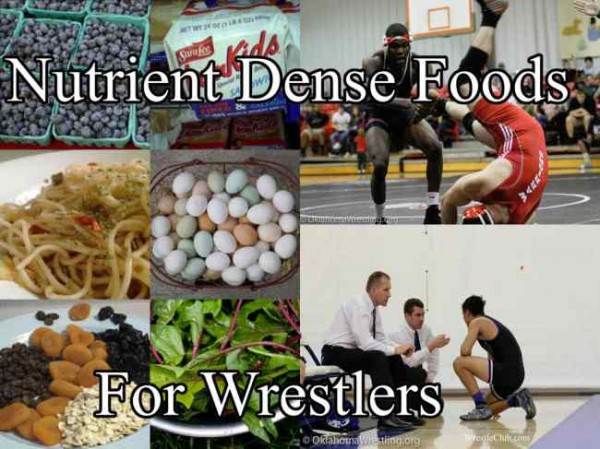 Super Foods are Nutrient Dense Foods
What is a super food? A super food is a group of foods that have a ton of nutrients and anti-oxidant properties. For any wrestler that is cutting weight, superfoods are nutrient dense foods that help the body and mind stay healthy during and after rigorous workouts.
A nutritious diet is an important part of being a great wrestler.
I've seen several different definitions, but I really like what BreakingMuscle.com has to say. In their article titled Top 5 Superfoods You Should Be Eating, it states that superfoods "are the most potent, super-concentrated and nutrient-rich foods on the planet".
Nutritious Food Contain Fiber
The most nutritious foods contain a lot of fiber, which is important for a wrestler's diet. The reason I say fiber is vital is because fiber gives you that full feeling sooner. It also keeps you from getting hungry as soon. You should try to eat 25-35 grams of fiber per day.
Where to get fiber?
whole grains pasta such as smart pasta
whole grain cereals like Kashi
whole grain breads like Sara Lee
beans and brown rice are always a good choice(

and cheap

)
Add Berries to Your Menu
Berries like blueberries and raspberries have anti-oxidant properties. You should try to eat a handful every morning. You can either eat them straight out of the package or you can make a smoothie. I like to add blueberries, bananas, an orange, flax seed, and almond milk.
Berries will help a delay the onset of muscle soreness. This is essential to a wrestler because they are pushing themselves every day. Towards the end of the season, most wrestlers are beat up and need every advantage they can get.
A Wrestler Can't go Wrong with Eggs
Let me clarify. When its wrestling season and my son is cutting weight, I will only buy egg beaters. They cook just like regular eggs and have half the calories. This is an excellent breakfast food when losing weight… Low in calories and high in nutrients.
Eggs are a nutrient dense food with a lot of protein. Eggs have bcaa benefits. They contain all nine essential amino acids
Eggs have been vilified over the years because of the cholesterol, but numerous studies have shown eggs are actually quite healthy. AuthorityNutrition.com has written an article called 7 Proven Ways to Lose Weight on Autopilot that talks about replacing your grain breakfast with eggs to start out your day.
Oatmeal Sticks to a Wrestlers Ribs
Oatmeal is low in calories, keeps you full for a long time, and lowers cholesterol. An additional benefit is that oatmeal stabilizes blood sugar. Try and eat a bowl of oatmeal at least two times a week.
WebMD has written a great article on oatmeal. A lot of people don't like oatmeal because of it's bland taste. If you are looking for a way to make this wholesome food taste better, check out
If you are looking for a way to make this wholesome food taste better, check out fannetasticfood.com. They wrote and article called "How To Make Oatmeal More Tasty, Filling & Satisfying"
Here is a General List of Nutrient Dense Foods for a Wrestler
I could go on and on, but this article would be a book. Here is a list of great foods for a wrestler. If you have any questions, post a comment and I will try to answer your questions. I used WebMD and diabetes.org to do some of my research.
Beans
Blueberries
Broccoli
Oats
Oranges
Pumpkin
Salmon
Soy
Spinach
Tea (green or black)
Tomatoes
Turkey
Walnuts
Yogurt
Almonds
Nutrient Dense Foods Recipes
Just because you are eating nutrient dense foods, doesn't mean it has to taste bad. Here are some of the websites where I have found healthy recipes that I have cooked for my son over the years. You may find that you will need to experiment to find what works best for you.
Healthy Food Now – I refer to this site for nutritious soups, stews, and desserts. Every one of their recipes is power packed with valuable nutrients to help with weight loss and staying healthy.
100 Quick and Easy Recipes – Here is a list of nourishing food recipes that can be cooked and prepared in 30 minutes or less. I really like this that this site has a recipe assistant. You can filter healthy recipes by ingredients or nutrients. I like this page because there are a bunch of salads that taste really good.
Easy Meals for Busy Athletes – This is a great article for wrestlers who are always on the go. The author talks about how nutrient density is more important than calorie density. They list a bunch of good foods to eat as well as about 40 different nutrient dense meals that will surely help you during wrestling season.
Additional Healthy Eating Resources
Over the years I have used a lot of different tools to help my son with this weight loss. Here is a collection of different resources to make sure you are eating nutrient dense foods.
The Nutrient-Dense Diet – The Nutrient-Dense Diet tells you the best foods for your metabolism, the worst ones, and lots more. The book gives specific recommendations for great, nutrient-dense, metabolism supporting breakfast options, snack options, lunches and dinners.
The Ultimate Guide to Wrestling Nutrition: Maximize Your Potential – By Joseph Correa (Certified Sports Nutritionist). Learn to accelerate your metabolism with the most nutritious foods to improve your wrestling performance.
Championship Nutrition and Performance: The Wrestler's Guide to Lifestyle, Diet, and Healthy Weight Control
WebMD Food-o-Meter – WebMD has created a page that will allow you to click on popular nutrient dense foods or search on foods to get all of the nutritional information that you need to make healthy eating decisions. It's a pretty cool page. You can even search foods from popular food chains.
Super Food Snacks – this book has a ton of healthy snacks that can benefit wrestlers. It is written by Julie Morris. She is the New York times best-selling author who wrote two books called "Superfood Smoothies" and "Superfood Kitchen"
Stay Updated
I hope you enjoyed the article about nutrient dense foods. Do you have a story to share or feedback on healthy eating?
We would love to hear from you. Post a comment or visit our Facebook page to connect with us on weight loss plans.
Share with the Wrestling Community
If you would like to stay updated, you can follow us on Facebook, Twitter, or subscribe to this blog. If you enjoyed the article, please share with the wrestling community.