Top 5 Wrestling Harlem Shake Videos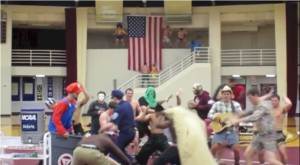 I'm sure everyone has seen a harlem shake video by now. I'm pretty sure I saw at least 500 different harlem shake videos. The harlem shake is a video of various people dancing in a funny way. The videos last about 30 seconds. The trend has went viral and has even involved the wrestling community. Today, I would like to show you the top five videos I like the most. I went through over a hundred videos. I hope you joy the wrestling videos.
5. Harlem Shake (Original Roger Williams Wrestling Edition)
There and eagle, a clown, darth vader, angry bird, etc.. very create video by Rogers William Wrestling.
4. Harlem Shake Kent State Wrestling
Not a lot of characters, but there is still a lot going on during this video by Kent State Wrestling.
3. Pioneer Wrestling Harlem Shake
My daughter liked this wrestling video by Pioneer Wrestling because it has sponge bob. There is a lot of goofy stuff going on in this video.
2. Shawnee Wrestling Harlem Shake
Theres a dancing bannan, wolf, robin hood(?), and more. At least thirty different wrestlers in this video by Shawnee Wrestling.
1. Springfield College Wrestling Harlem Shake
This one is my favorite by Springfield College Wrestling. It has mario, a cop, a funny criminal and more. If you look in the back ground, there are several people doing funny things.
What do you think?
This is not my normal wrestling article. I wanted to do something to get the wrestling community to smile. I hope you enjoyed the videos. post a comment on facebook or at the end of this article to tell us which video you like the best. Thanks for reading and have a great day!