Wrestling DVD Review – Bottom Position: Basic Techniques
This is a review a wrestling instruction DVD titled "Bottom Position: Basic Techniques by Townsend Saunders".
This the first DVD I have reviewed by Townsend Saunders. Town Saunders is an Olympic silver medalist. This wrestling video tries to teach basic wrestling techniques from the bottom position for elementary age wrestlers.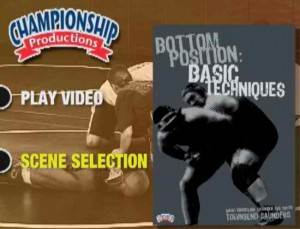 Wrestling Video Overview
In my opinion, this is wrestling video is for basic wrestling moves. This wrestling video is geared towards elementary and novice wrestlers. In my opinion, there is not a lot of meat to this DVD.
I would almost call this a Bottom Wrestling 101 series. I'm sure that Townsend is a great wrestler but it appears that he needs to spend quite a bit more time learning how to teach wrestling. Let's review what is covered in this wrestling video.
Overview of this Wrestling Video
Introduction
Townsend talks about his career at Arizona State and that this DVD is designed to teach bottom wrestling skills to wrestlers of the elementary age level.
Starting Position

He spends a few minutes talking about the bottom person have a good position.
Techniques and Drills

Show how do to proper technique when doing a stand up. Then he goes on to a few moves in the sit out series. He continues to show basic wrestling moves from the bottom.
Freestyle Techniques

This is my favorite part of the DVD. He shows several techniques to help the bottom man keep from being turned to his back during a freestyle wrestling match. He showed some drills that I thought was pretty cool.
My Opinion on this DVD
This instructional DVD does not cover more than the very basics of bottom wrestling. While I think it can provide some refreshers to an experienced wrestler, I don't think an experienced wrestler would learn much from this wrestling video
I would only recommend buying this dvd for your brand new wrestlers or parents who never wrestled before. Want to read more? check out my other wrestling dvd reviews
What Are Your Thoughts?
I hope you enjoyed the article and give some thought to expanding your wrestling dvd instruction. It doesn't matter whether your a parent, a wrestler, or a wrestling coach, you should continue grow your wrestling education. Do you have some feedback? We would love to hear from you. Post a comment and let us know what you think.