Wrestling DVD Review – Carl Adams: Dominating the Tie Position
This is a review a wrestling instruction DVD titled "Carl Adams: Dominating the Tie Position".
The tie position is one of the most common positions that a wrestler will use to score a takedown. In my opinion, most wrestlers don't know what to do with the tie position. After watching this DVD several times I think this wrestling DVD will definitely help a wrestler with a tie up.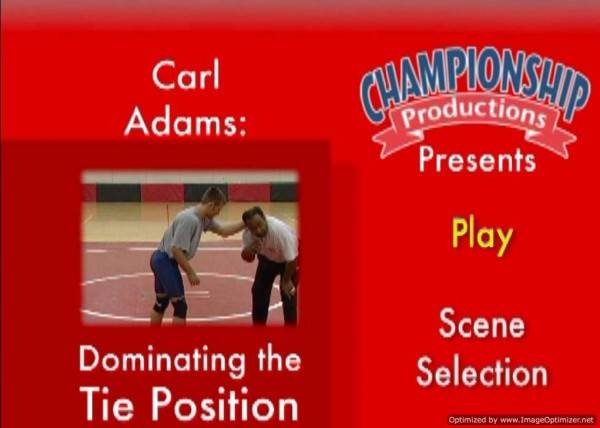 DVD Overview
There is a ton of information on this video. You could watch if 50 times and learn something different. I'm a big fan of Carl Adams. I grew up on his instructional videos. He covers numerous tie-ups and the position a wrestler needs to be in to do well from a tie up.
Overview of this Wrestling DVD
Introduction
Talks about the importance of position and how a wrestler needs to be in the best position to defend and attack.
Inside Tie
Speaks about how the inside tie is one of the best positions to be in from a tie.
Elbow Tie
specific tips to controlling an elbow tie. He continues to talk that the elbow tie is on of the better tie positions.
Under Hook
talks about how the under hook opens up so many ways to attack.
Russian Tie
talks about how the Russian Tie is based attacking when the opponent is defending.
Collar Tie
Talks about common mistakes a wrestler will make with the collar tie and some of the advantages of a collar tie like that it will tire out an opponent if done right.
Arm Drags
speaks a lot about clearing the arm when doing and arm drag. In my opinion, the arm drags compliment the Russian Tie and the Collar Tie.
Attacking the Head
attack the head to upset your opponents balance and attacking the head will show an opponent's weakness.
Attacking and Defending Inside Ties
Since the inside tie is the preferred position of any wrestler, Carl talks about how to defend and attack from this position. He focuses a lot of time on developing the power to clear the arms and shoot after the arms are cleared.
Attacking and Defending Head Ties
He spends quite a bit of time focusing what to do if an opponent attacks the head. Talks about how to counter with a Russian Tie and how to pass the elbow.
Wrestling Drills
In this section he talks about different drills to improve the tie position. I think this section is really geared towards wrestling coaches. A parent or an older wrestler could make use of this section, but I think a wrestling coach can use this section and implement some of this in his wrestling practice.
My Opinion on this DVD
I've had this DVD for some time. I've watched this DVD numerous times. Each time I watch, I learn something new. This is a DVD for experienced wrestlers and coaches. You really need to watch this wrestling DVD several times and study it to learn from it. A new wrestler would struggle with a lot of these concepts, but an experienced wrestling coach could break this DVD down and apply specific techniques to help his wrestlers.
This DVD sells for around forty bucks. I think it is a fair price. I think it is well worth the small investment. If you would like to buy the DVD, you can click here to buy from championship productions. I have also found copies on youtube.
Want to see more, check out my other DVD Reviews.
What Are Your Thoughts?
I hope you enjoyed the article and give some thought to expanding your wrestling DVD instruction. It doesn't matter whether you're a parent, a wrestler, or a wrestling coach, you should continue to grow your wrestling education. Do you have some feedback? We would love to hear from you. Post a comment and let us know what you think.