Wrestling DVD Review – Becoming a Champion: Scrambling – Scoring from a Bad Position
This is a review a wrestling instruction DVD titled "Becoming a Champion Scrambling: Scoring from a Bad Position DVD".
Most of the time when a wrestler tries to score a take down, it doesn't go perfectly. A lot of times a wrestler will end up in a bad position. I have watched this DVD a couple of times and I'm really impressed with this wrestling video. John Smith is the coach of Oklahoma State University and is arguably one the best wrestlers the United States have ever produced.
One of the things that John talks about is that we don't want to purposely get in to a bad position, but goes on to say that just because a wrestler gets in a bad spot doesn't mean he can't score. This video will show you things about scoring from a scrambling position that you never thought of. I definitely think it will teach you how to become a better wrestler.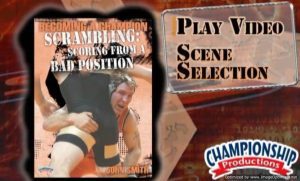 DVD Overview
I would say that their is not a ton of information on this video, but the information is worth its weight in gold. One of the things that I like about John Smith is that he is a true teacher of wrestling and takes the time to go into great detail on every move he is showing.
This is a great wrestling instructional video for coaches as well as the serious wrestler who want to improve his technique from his feet.
Overview of this Wrestling DVD
Introduction
Talks about scrambling wrestling from a take down. He talks about how this is an important aspect of wrestling.He goes on to talk about how he won six world championships by learning to wrestle from scrambling position.
Single Leg Scrambling

Talks bout scoring from a single leg when your opponent blocks your shot and you get extended. He spends a lot of time on single legs.

Single Leg Scramble with Hands Locked
Single Leg Scramble with Head Planted
Single Leg Scramble with No Corner

Scrambling from Front Headlock

In this part of the DVD, he talks about how most wrestlers want to try to be defensive and hold on for a stalemate.Instead he says this is where a wrestler should be trying to score. He shows an awesome drag, but says it should be hit very quickly.
Scrambling from Under Hooks
In this section he talks about how you take a shot and your opponent blocks the shot and puts in an under hook.
Peekout
Jonh talks about doing a peekout when a shot is blocked. This is one of my favorite sections.
High Crotch Scrambling

He covers high crotches in this section. Here is what he covers.

High Crotch Scrambling from a Bad Angle
High Crotch Scrambling from the Extended Position
Scrambling from High Crotch to Dragout

Drills to Build Scrambling Skills

These are drills to help a wrestler keep their knees under them and actually drill when your in a bad position. He tells you if you want a wrestler to become good a scrambling, he has to practice it.He makes point of saying the partner must apply hip pressure to help build power and proper technique.He goes on to say when a wrestler gets good at scrambling to put them on their belly and do the same drills.Once they can do it from their belly, then go live.

The more realistic, the better.
Sample of Wrestling DVD
My Opinion on this DVD
I have to say I really like this wrestling DVD. John is a very detailed teacher. I like the way that he isn't trying to cram too much information into this DVD. A wrestler gets into a bad spot so often and I think it is an area that is overlooked. I would recommend buying this dvd for your collection.
Click Here to Buy this Wrestling DVD
This DVD sells for around thirty bucks. I think it is an awesome price for what your getting. I think it is well worth the small investment. Want to read more? check out my other wrestling dvd reviews
Found this wrestling DVD review useful? Here's the super easy no-pain way you can help support future reviews! Read on…
I hope you found this review helpful. I buy all of these Wrestling instructional dvds out of my own pocket. I have written this review from the stand point of an actual wrestler. If you would like to support further reviews, please support us by using the links we have provided quickly buy any wrestling dvds your see.
Thanks for reading! I hope you enjoyed the article and give some thought to expanding your wrestling dvd instruction. It doesn't matter whether your a parent, a wrestler, or a wrestling coach, you should continue grow your wrestling education.
Do you have some feedback? We would love to hear from you. Post a comment and let us know what you think.