Mastering Takedowns: How to Finish a Single Leg in Bad Position
The single leg is one of the most common take downs used in folk style wrestling. I see a lot of wrestlers who shoot a single leg, but don't score the takedown because his opponent defended the attack. This is an area that doesn't seem to get a lot of attention.
Today, I would like to discuss how to score a take down when an opponent defends the single leg.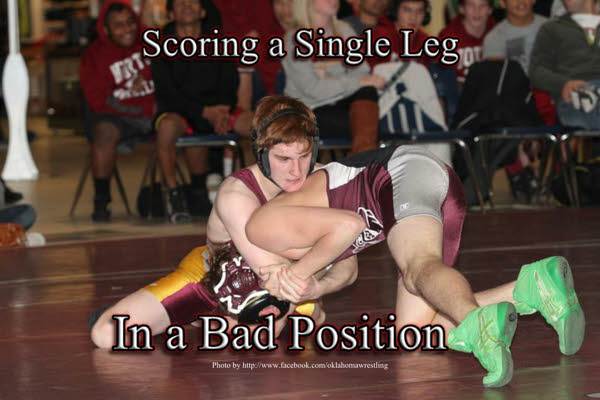 Most Single Legs aren't Perfect
If you watch most wrestlers who shoot a single leg, you will notice that very few of them execute the single leg perfectly. That is when both wrestlers get into a scramble position. It is definitely a fight to score on a single leg that has been defended but there are techniques you can use to improve your chances.
Scoring Single Leg from a Bad Position
There are numerous was to score a single take down from a bad position. You should dill as many finishes as possible. I would advise incorporating the single leg into your chain wrestling drills. There are so many that I'm only going to list a couple in this article.
Pop head out – If you're in deep on a single leg, and your opponent sprawls, you can pop the head out and turn the corner, switch the angle etc.. There is a great video called Shot Finishes From Underneath that shows this technique.
Turn the corner – This technique is used to get behind the opponent when your opponent sprawls. This method basically mean the wrestler who shot the single let will get on this toes and circle until he is behind his opponent. Here is video by Jason Layton called How to finish a single leg takedown if he sprawls.
Practice Single Legs from a bad position
Practice single legs to get better. In order for a wrestler to get good at scoring single legs from a bad position, you need to do situation wrestling in practice to perfect your techniques. Put your best wrestling shoes on and learn to score from a bad position. Your coach should drill this situation. It's important to note the person doing the single leg does not start in a bad position.
The wrestler should take a good shot. Then his partner should sprawl. When you first start practicing this, your partner should use 50% effort to defend the single leg. As you get better at scoring from this position, have your opponent use more effort.
Keep Working until Your Single Leg is Unstoppable
Learning to score from a bad position does not happen overnight. Just like any wrestling move, it takes time to be able to master this technique. Practice this on a daily basis until you can take down any opponent with a single leg. Eventually you will become unstoppable.
Looking for a Good Single Leg DVD?
If you are looking for a great dvd on scoring single legs from a bad position, check out my Wrestling DVD Review – Becoming a Champion: Scrambling – Scoring from a Bad Position by John Smith.
I highly recommend this dvd. John Smith goes into great detail. I bought this dvd and still refer to it on a weekly basis.
Click Here to Buy This DVD on Amazon
What are your thoughts?
Do you have any suggestions on scoring from a single leg? Do you have some feedback? Thanks for reading. We would love to hear from you. Post a comment and let us know what you think or connect with us on our Facebook page.