Coaching High School Wrestling Takedowns
If your looking for high school wrestling takedowns, then this article is for you. This a review of a wrestling video is by Scot Davis. Scot has coached as numerous schools. At the time this this wrestling dvd was made, he coached at Owatonna high school in Minnesota.
He has the distinction of having the most most career wins of any high school wrestling coach in US history and the only coach with over 800 dual victories.
This video covers numerous high school wrestling takedowns. I just finished watching the video and I have to say I am impressed with how much he covers. I know your here to get more information, so let's get to it.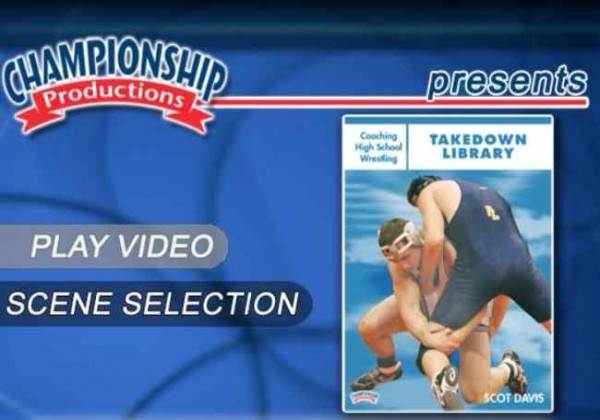 Wrestling DVD Overview
The coaching high school series is geared toward experienced wrestling coaches. In my opinion, this DVD could easily sell for $60+. Scot covers so many different takedowns, that a wrestling coach would benefit from this video for years.
His wrestling video doesn't into a lot of details, but you would expect this level of material for a seasoned wrestling coach. I think that the best thing about this dvd is that a wrestling coach can use this for ideas to help his young wrestlers.
High School Wrestling Takedowns Covered
Introduction
He introduces himself and he talks about how you will focus on different wrestling takedowns every year, because you will have different wrestlers with different strengths.
Basics and Single Leg Takedowns.

Before he dives into takedowns, he takes a couple of minutes to give a refresher on a good wrestling stance. Then he focuses on numerous single leg finishes.
High Crotch Takedowns

Talks about how you will finish a takedown differently depending on whether you come into a high crotch low or high. Scot covered seven different ways to finish a high crotch.
Double Leg Takedowns

He talks about how a double leg takedown is a finish from a tie up. From there he shows how to set up a double leg from five different situations.
Firemans and Kelly Takedowns
He show different situations and techniques to focus on with the fireman's carry takedown. He showed seven different finishes from the fireman's carry… Amazing.

Next he moves on to the Kelly series. He spent some time focusing on basic techniques of the kelly move and then shows two different finishes from the kelly.

Duck Unders
In this chapter of his wrestling video, he talks about how a duck under is almost an effortless move.

He shows several nuances to remember with the duck under takedown. He showed four different ways to take someone down with a duck under.

Ankle Pick Takedowns
He talks about how a ankle pick is not really an ankle pick, but a heel pick.

High school wrestling coaches use the word ankle because a wrestler will hear the work ankle better.

He talks about one of the most effective ways to do an ankle pick is to do it right when the whistle is blown. Then he goes on to talk about the ideal situation for an ankle pick is when the opponents head is right over the ankle.

Scot shows five different ways to set up and finish a takedown with an ankle pick.

Foot Sweeps
Next, he talks about how you want to sweep the the foot before he plants. He didn't show a lot in this area, but he showed three different ways to to do a foot sweep taledown.
Throws
In this chapter, he talks about how if you focus on throws you lose the basics, such as single legs and double leg takedowns.

He talks about in a dual, a wrestler is more conservative. In wrestling tournaments the goal is to win. He covers the headlocks and laterals.

Front Head Finish
in this section, he shows a finish to a front headlock.
Counter to Front Head
In this chapter, he showed how to do a drag to counter the front headlock. it was similar to what I have seen in the Scoring from a Bad Position DVD that I have previously reviewed.

Then he shows how to do a give and take when applying a front headlock.

Inside Trip
He spends a couple of minutes on the inside trip takedown. Not a lot, but still good information.
Boot Scoot
in this section, he shows a boot scoot takedown. it looks similar to a duck under, but you fall to your hip. He did focus on not doing the boot scoot unless you have pressure from your opponent.
Sample of Wrestling DVD
My Opinion on this DVD
I have spent a lot of time reviewing this dvd and I'm not sure I have done it justice.
If you are a wrestling coach, I would highly recommend this dvd to you. Even better I would suggest that you go ahead and buy the Coaching High School Wrestling DVD Set. It is money well spent.
Championship productions sells the video as a DVD or allows you to instantly download the video.
Please note: Some of the links in this article are affiliate links. If you make a purchase, I will make a small commission at no additional cost to you. Regardless, I will only promote products that I feel add value to the wrestling community. You can read here for full disclosure.
Additional High School Wrestling Takedown Resources
Championship Productions – They have been around forever. I have been buying videos from them for years. They have 128 different videos on wrestling takedowns.
Flowrestling – if you have a flo pro acccount, there is a ton of great videos on wrestling takedowns. It's $20 a month and you can watch live tournaments as well numerous technique wrestling videos.
YouTube – I did a search on YouTube for "high school wrestling takedowns" and numerous wrestling videos came up. You may have to comb through a ton of vidoes, but you can find a lot of good information on takedowns.
Amazon – has tons of great books an videos on wrestling takedowns. This is one of the first places I look for wrestling stuff.
Kolat.com – Their website says they have 2,400 videos and growing. I don't have a membership, but it looks like a great site.
Stay Updated
I hope you enjoyed this review on high school wrestling takedowns. Part of becoming a better wrestler or wrestling coach is continuous improvement.
It doesn't matter whether your a parent, a wrestler, or a wrestling coach, you should continue grow your wrestling education. Do you have some feedback about the wrestling video? We would love to hear from you. Post a comment and let us know what you think.
If you would like to stay updated, you can follow us on Facebook, Twitter, or subscribe to this blog. If you enjoyed the article, please share with the wrestling community.