Customizable Pages on your Wrestling Website
On every good wrestling site, there are certain web pages that are standard. The only difference the content of those pages. One of the features we added was the ability to maintain certain pages by the wrestling club.
Advantage of Customizable Wrestling Site Pages
The main advantage is that you can add, change, or remove content from your wrestling pages without having a web guy take care of it for you. This makes maintaining your wrestling club information extremely easy.
For example, your wrestling club apparel usually changes on a yearly basis. You will most likely want to upload new images with a description and a price. Let's take a look at how simple it is.
How Easy is Maintaining Your Wrestling Site Pages?
It's extremely easy. Choose the page you want to modify. Those pages are listed under "Maintain Club Parameters". Let's take a look at the Club Apparel Maintenance page. Here is a screen shot.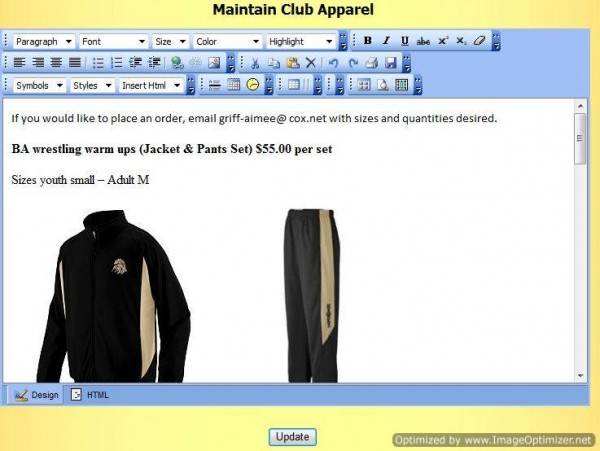 The screen your looking at is a WYSIWYG editor. It allows you to enter html and images and update the page. In a lot of ways it is like using Microsoft word. The editor has more features than you will probably use. After you make your changes, simply click the update button and your custom wrestling page is updated. You can see the updated page by clicking on club>club apparel.
It's that easy for all of our customizable pages. We can easily add more pages if needed to make sure wrestling site work for you.
We hope you enjoyed this article. If you are looking for a custom wrestling web site, feel free to contact us and we can get your site up and running in a couple of days. This wrestling website does so much you will wonder how you ever ran a club without it.