Wrestling Roundup Aug 22 – Snyder and Maroulis Win the Gold
Olympics wrapped up yesterday. Helen Maroulis became the first woman to win a gold in wrestling by upsetting Saori Yoshida. Kyle Snyder can now add Olympic champion to his list of accomplishments. J'den Cox, who is a newcomer to the international scene won the bronze. Jordan Burroughs, who was favored, lost two matches to get beat out.Two Mongolian wrestling coaches strip down in protest. Two Mongolian wrestling coaches strip down in protest. Check out this week's roundup.
U.S. wrestler Helen Maroulis faces down legend Saori Yoshida to win gold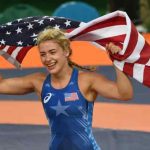 RIO DE JANEIRO — Helen Maroulis hatched her partial obsession with Saori Yoshida two years ago. She studied her wrestling matches. She translated her interviews from Japanese to English to learn how she thought. She smoothed her weaknesses to match Yoshida's strengths. Maroulis wanted to win an Olympic title, and that meant she needed to beat Yoshida, winner of three gold medals and 13 world championships, an idol of a nation, the best female wrestler ever.
Snyder becomes youngest Olympic wrestling champ in U.S. history
One year after becoming the youngest world champion in U.S. history for wrestling, 20-year-old Kyle Snyder is now the country's youngest Olympic champion in the sport. Snyder defeated Khetag Gazyumov, the world No. 3, in the men's 97kg freestyle wrestling final by a score of 2-1 to win gold in his Olympic debut.
J'Den Cox wins bronze after opponent bizarrely refuses to return to mat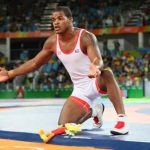 Wrestler J'Den Cox is a bronze medalist after winning in one of the wackiest endings to an event in a week and a half of wrestling at the Olympics.
Mijain Lopez Nunez in an elite group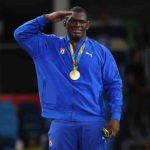 Cuban Heavyweight joins an elite wrestling group. He is only the 3rd male wrestler to win three Olympic golds in wrestling. Nunez joins Russian great Karelin and Carl Westergren of Sweden as the only wrestlers with three Olympic titles in wrestling.
Kaori Icho First Wrestler with Four Olympic Golds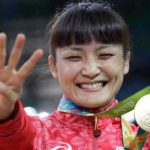 Japan has swept the gold medals on the first day of the Olympic women's wrestling tournament in Rio, with Kaori Icho becoming the first wrestler in Olympic history to win four gold medals.
Denver's Adeline Gray loses quarterfinal match in Olympic wrestling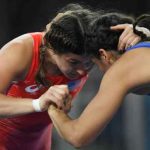 Her dreams of making Olympic wrestling history dashed in a shocking quarterfinal upset, Adeline Gray looked stunned and a little numb trying to comprehend what went so wrong.
The three-time world champion hadn't lost in two years and was favored to become the first American woman to win a gold medal in wrestling, but something was missing Thursday in her 75-kilogram (165 lbs.) match against Vasilisa Marzaliuk of Belarus.
USA's Jordan Burroughs gold dream ends in freestyle wrestling defeat in Rio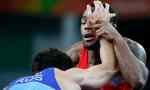 Defending Olympic and world champion Jordan Burroughs was stunned by Russia's Aniuar Geduev on Friday in the quarter-finals of men's 74kg freestyle wrestling.
Mongolian wrestling coaches strip to protest controversial bronze medal match defeat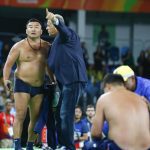 Two Mongolian wrestling coaches stripped off their clothing to protest the result of a bronze medal match, a bizarre turn in a day where officiating was highly criticized.
Stay Updated
I hope you enjoyed the article. Post a comment and let us know what you think.
What's Next?
If you like the article, subscribe to our blog to receive our newest articles right to your inbox.
Tell Your Friends
If you enjoyed the article, be sure and share the article on Facebook and Twitter.
Thanks for reading!
And lastly, if you felt this article was useful – I always appreciate feedback in the comments below. Thanks!