What Makes up a High School Wrestling Dynasty
How are high school wrestling dynasties created? When I think of wrestling dynasties, I think about schools like Blair Academy, Allen Eagles, Collinsville Cardinals, Broken Arrow Tigers, Brandon Eagles, etc… I was also reminded about Tuttle who won their 8th straight state championship.
These programs consistently produce top-notch wrestling programs. Have you ever wondered how schools like these build a wrestling dynasty?
I have thought about this for a few days. I think there are some key components to a great wrestling program. Let's take a look at how wrestling dynasty are created.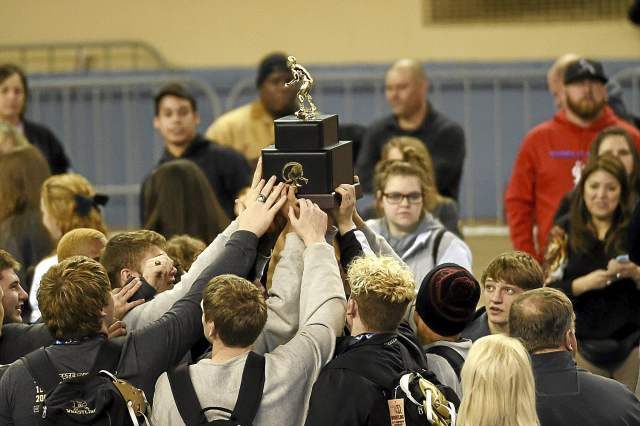 Everything Starts with Quality Coaches
Top notch wrestling coaches are the main key to a successful wrestling program. A good high school wrestling coach knows a lot more than the technical aspects of wrestling. You can almost compare a wrestling coach to a CEO of a business because there are many qualities he must have.
What qualities does a coach need?
Leadership – He must have the ability to communicate his vision to the school, parents, wrestlers, and the community.
Recruit Good Coaches – a wrestling dynasty needs good coaches at all levels. Little league feeds into junior high and junior high feeds into the high school. It is the high school coaches' job to find quality coaches that buy into his vision.
Find committed volunteers – no program can be good without good volunteers. A wrestling coach overseas the booster club, which is responsible for fundraising and running tournament events.
Keep Kids Focused – As the kids get older, they face many obstacles that can keep them off the mat. I'm talking about grades, who they hang out with, drugs, etc… In a lot of ways, a wrestling coach is like a second parent to these kids.
Scheduling – The wrestling coach works with the athletic director to put a wrestling schedule in place that makes his wrestlers better, but still puts them in a successful spotlight.
Support of School and Community is Vital
You can have the best wrestling coach in the world, but if your school doesn't support wrestling, the school's wrestling program will never achieve the status of a dynasty. This means the school provides the funding, great facilities, and ample opportunity to be successful.
How does the community impact a wrestling dynasty? The community does a lot. They come to watch wrestling matches. They support the program with fundraisers. I think one of the most important functions of a community is that they hold the coach and the wrestlers to a high level of ethics and expect to see success.
The school supports a wrestling dynasty to provide finances to build the best wrestling program possible. This means sending their team to the toughest tournaments in the nation.
Committed Parents are Key
Wrestling parents are the unsung heroes of a great wrestling program. The buy them the best wrestling shoes, encourage their kids to strive for success and help the wrestling program any way they can.
Without the parents, the wrestling program will never achieve its potential. I think the parents have as many responsibilities as a wrestling coach.
Although they are different from a coach, they are just as important. Here are a few responsibilities of a wrestling parent.
Important Qualities of a Wrestling Parent
Make sure their kid is doing well in school
Make sure he gets to all practices and events.
Be a cheerleader for their kid.
Keep kid focused on making improvements on the mat.
Volunteer for wrestling events.
Make sure their kid is getting sleep and proper nutrition.
Quality Junior High Program is Important
In my opinion, junior high wrestling is where a wrestler makes the most improvements.
I remember this was the time when my son really started working on his heavyweight wrestling style. The time my son spent in junior high helped him be ready for varsity wrestling as a freshman.
This is where a junior high wrestler acquires the necessary tools to wrestle for a high school. A good junior high wrestling coach is vitally important. He has to be able to do the following.
Be able to relate to teenagers. This age group is feisty.
transition them from little league to junior high wrestling
Be patient but stern.
Successfully build quality wrestlers that can compete in high school
State Champions begin at the Little League Program
Before wrestlers get to junior high, they are developing in the little league program. I cannot tell you how many state champions that started wrestling in little league.
This is where it's important to develop a love of the sport and get our little wrestlers to understand the basics of wrestling.
I always enjoy watching our little leaguers, because I know those little guys and gals will be future state champions.
Hope You Enjoyed the Article
I hope you enjoyed the article. I think wrestling dynasties is something that every high school wrestling coach should aspire to. Do you have some feedback? We would love to hear from you. Post a comment and let us know what you think.