Wrestling Techniques: How to Defend a Half Nelson
Last night I watched two wrestlers get pinned with a half nelson. Both of these kids were turned to their back with a half nelson when they were on their belly. In my opinion a wrestler should never get pinned with a half nelson.
The half nelson is a common pinning move in youth and high school wrestling. A lot of younger and inexperience wrestlers have difficulty in defending this move. There are some great wrestlers at the high school and college level that have great half nelsons, but most half nelsons lack the proper technique to turn an experienced wrestler to their back. Let's discuss how to defend a half nelson.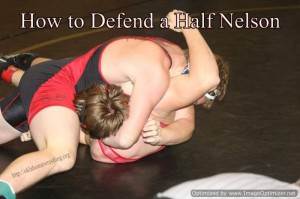 What is a Half Nelson
The half nelson is a move where the opponent on top slides his hand in between arm and head and applies pressure to the head to turn the opponent over to this back. There is also a slight variation of the half nelson that is called the power half nelson. With the power half, the opponent used two hands to apply more pressure to the half nelson.
This is a great move when an opponent is not moving from the bottom position. Here is a video by PlaySportsTV Wrestling that demonstrates a half nelson.
http://youtu.be/fnteM–Gydw
The Half Nelson is easily Defended
First let me say this… If a wrestler is moving off the bottom, it is almost impossible for a wrestler to get put into a half nelson. That is what I prefer any wrestler to do. They should focus on stand ups and reversals.
There are times you will encounter a wrestler that is very good at riding an opponent. This is when you are most likely to have a half nelson thrown on you. Here are some general tips on how to defend a half nelson.
What you Should Do
As soon as your opponent tries to put you in a half nelson, then you immediately need to look away from the half nelson.
The second thing you need to do is to rotate your hips to make it hard to turn you.
If you can, then reach up and peel the half nelson off.
This can sometimes be a battle. Be prepared to fight you opponent off when he starts applying pressure.
What You Shouldn't Do
Do NOT reach up to pull the arm away. It makes it easier for you to be turned.
Do Not look into a half nelson.
Here is a video by Carl Adams on how to defend a half nelson. Carl Adams was a college wrestling coach for 41 years.
Wrestling DVD's
There is plenty of information on YouTube about how to defend the half nelson, but if you are looking for some great instructional wrestling videos, then take a look at Championship Productions. Ken Chertow has some videos that will help with bottom and top work.
Please note: Some of the links in this article are affiliate links. If you make a purchase, I will make a small commission at no additional cost to you. You can read here for full disclosure.
What are your thoughts?
I hope you enjoyed the article on learning to defend a half nelson. As an active member of the wrestling community, my goal is to grow this wonderful sport.
Thanks for reading! And as always, feel free to post comments or questions in the comments section below. If you would like to stay updated, you can follow us on Facebook, Twitter, or subscribe to this blog. If you enjoyed the article, please share with the wrestling community.