Drinking Water is Great for Losing Weight in Wrestling
Drinking water can help wrestlers lose weight for wrestling.

Wrestlers should drink more water to drastically improve weight loss.
In a previous article I wrote about the Best Weight Loss Diets for Wrestling. One of the aspects I talked about what that wrestlers need to focus on losing body fat instead of water weight.
I think water and weight loss go hand in hand. Today I'm going to talk about why wrestlers need to drink water as part of a good wrestling weight loss plan.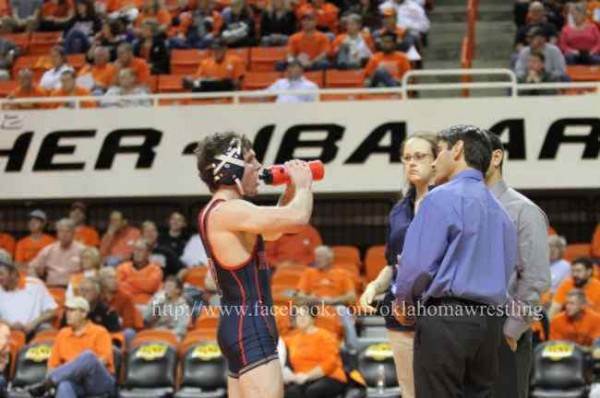 Why Water is great for Losing Weight in Wrestling
As a wrestler your body depends on water. You are working out every day and your body uses water to recover and take care of itself to help you stay competitive on the wrestling mat. Here are some great reasons why drinking water will help you lose weight for wrestling.
Drinking water raises your metabolism
Water helps you feel fuller
Water aids in digestion and cleaning your body of toxins.
Water helps normal bowel functions
Here are a couple of great articles to read on the subject: 6 Reasons to Drink Water and 10 Reasons Why You Should Drink More Water
How Much Water Should a Wrestler Drink
We all know that we need water. The big question is how much water to drink every day?
During wrestling season you are losing a bunch of water during workouts. This means you have to drink a lot of water to replace what you have lost and to help you lose weight for wrestling.
I recommend that you drink 12 to 16 glasses of water every day. I know that sounds like a lot, but a wrestler can easily lose two to four pounds of water every practice.
Wrestlers Should Drink Water Before and After a Meal
Wrestler should eat 4 to 5 meals a day to boost your metabolism. Check out my article on Nutrient Dense Foods for Wrestlers
If you drink a glass of water before each meal and immediately after a meal, you will have an easier time sticking to your weight loss plan. The extra water will make you fill fuller and is a great way to drink the necessary water that your body needs.
Tips to Drink More Water
Most people don't like to drink water. Here are some tips to help you drink more water.
Keep a jug of water with you at all times
When your relaxing drink water from a straw. Most people have an easier time drinking water from a straw because there not really thinking when they take sips.
If you drink bottled water make sure and keep cold bottles in the fridge.
Drink a glass of water as soon as you wake up.
What are your thoughts?
I hope you enjoyed the article. Do you have some feedback about this article? We would love to hear from you. Post a comment or a review and let us know what you think. You can even visit our Facebook page to connect with us. Thanks for reading!