Product Review: Asics Cael V6.0 Wrestling Shoe
This is an unbiased ASICS Cael V6.0 wrestling shoe review.
This review was done by my son, who was a sophomore when the review was done. My son completely wore out his last pair of wrestling shoes by the end of the folkstyle season.
I swear he is hard on a pair of shoes. Maybe that's because he is a heavyweight… Anyway, I bought my son a new pair of wrestling shoes from Amazon. Read his unbiased product review to get an honest opinion of these wrestling shoes.
ASICS Cael 6.0 Wrestling Shoes Review
My son wore these shoes at Fargo. Between Greco and freestyle, he wrestled about fifteen matches. At the time these shoes were around 70 bucks.
About the Shoe:
This wrestling shoe is the signature shoe of four-time undefeated NCAA National Champion and current Penn State wrestling coach Cael Sanderson.
The shoe is extremely light. It's a little less than 8 ounces.
Mesh upper and instep for extra breathability.
Flexible split sole with modified outsole for enhanced grip on the mat.
Lace garage cover.
The ComforDryTM Sockliner adds padding to the ankle.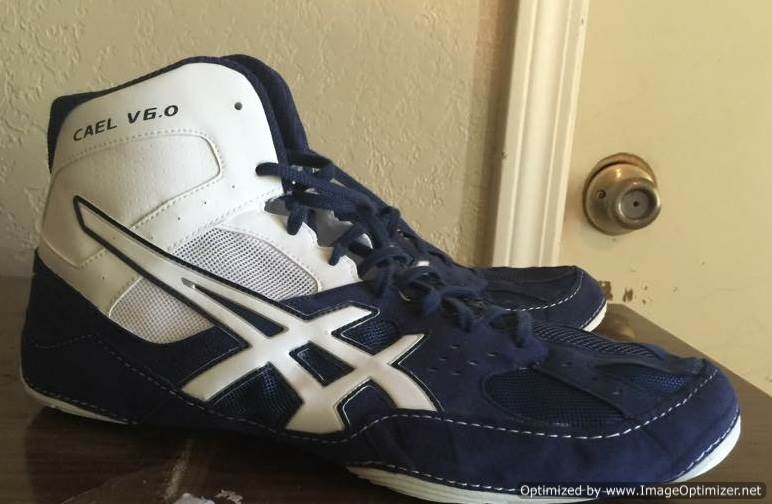 Pros
Overall my son is very happy with these shoes. For the price, they are a good pair of shoes.
Comfortable – My son said they fit his feet great are very comfortable to wear
Numerous Color Options – I found at least 6 different color options to choose from. I thought the black/pink looked cool, but my son opted for blue/white since it's freestyle season.
Great Traction – The shoe has great traction and allows a wrestler to take shot or use leverage without slipping.
Cons
The only thing he doesn't like is the shoe garage that is supposed to cover his laces. His laces kept coming out. He solved the problem by taping his laces.
I had read a few reviews on Amazon that stated the sole cracked and the seams wore out quickly, but my son did not experience this issue. It's been a month, but so far the shoes are holding up just fine.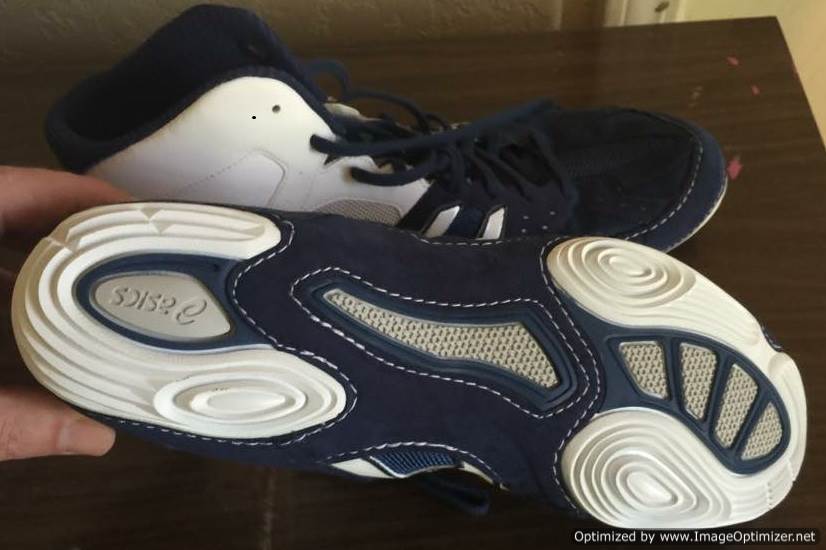 My Opinion
The last time I checked the Cael V6.0 was about 50 dollars, but the price has dropped since the Cael V7.0 came out.
While the shoes are holding up well for my son, I read about other wrestlers that have durability issues. For the money, this is a great pair of shoes. They have a great fit, light weight, and seem to be durable. I checked Amazon and found a bunch of useful reviews.
As far as sizing, you should either buy the shoe a half size larger or try it on locally before buying online.
I'm not sure if the shoes would last 2 seasons. While these aren't my son's favorite shoes, he did like them and they held up well in Fargo. I spoke to other wrestlers who loved these shoes.
Found this review useful?
Hopefully, you found this ASICS Cael 6.0 wrestling shoes review useful. At the end of the day, I'm an active member of the wrestling community – and this review was written from a standpoint of an actual wrestler using the product for an entire season.
We put dozens (if not hundreds) of hours man hours into each article. We love what we do and hope you benefited from this article.
Our goal is to provide value to the wrestling community.
Where to Buy
You can support our work by simply reading our articles and using our affiliate links to buy products. If you buy something from a link we have on our site, we make a small commission at no extra cost to you. If you want to learn more, you can visit our disclosure page.
ASICS Men's Cael V6.0 Wrestling Shoe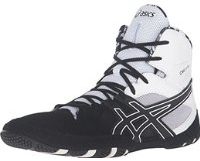 The Cael V6.0 is a good shoe that is light and comfortable. The price has come down since version 7 has came out.
See It on Amazon
Rather buy the Version 7.0? Click Here
Tell Your Friends
If you enjoyed the article, be sure and share the article on Facebook and Twitter.
Thanks for reading!
And lastly, if you felt this article was useful – I always appreciate feedback in the comments below.