WIN Magazine – Wrestling Gift That is Perfect for a Wrestler, Coach or Fan
WIN Magazine is the perfect Christmas gift for the wrestler, coach or fan on your holiday shopping list. It's truly the gift that "keeps on giving" throughout the year. Here's what you can expect next year in WIN: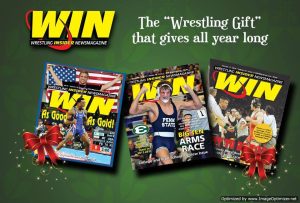 Who will win the battle of NCAA champions in Des Moines…three-time titlist Kyle Dake or reigning Hodge Trophy winner David Taylor? Dake's showing his confidence and making his road to become only third four-time Division I champ harder by moving up to wrestle his friend and last year's top wrestler in Taylor at 165 pounds.
Can Blair Academy continue its high school domination with a new coach or will Central Dauphin (Harrisburg, Pa.), Canon-McMillan (Canonsburg, Pa.), St. Eds (Cleveland, Ohio) or Clovis (Clovis, Calif.) become the top high school team?
WIN Magazine is at the National High School Coaches Association Championships, the AAU's Disney Duals and the USA Wrestling Cadet and Junior Nationals to give insider information on the stars of the future and what the recruiting path looks like.
WIN's "Make Yourself a Better Wrestler" section and other articles will keep wrestlers excited about the sport and proud to be associated with it. All while developing positive reading habits.
As a special bonus when you purchase a WIN Magazine print subscription for a friend, for as little as $29.95, you'll receive a FREE copy of the "No Arms, No Legs ALL HEART" DVD of Ohio's Dustin Carter.
It's a remarkable story about a wrestler who truly has overcome all odds and successfully competed as a high school wrestler. It'll bring tears to your eyes and remind of everything that is good about the sport of wrestling, and how it truly is a sport for everyone. Another reason WIN Magazine is the perfect gift this year!
We are not receiving any kind of commission on this article. We think WIN magazine is a great magazine and we simply wanted to share this offer with out readers.
Make sure to use promo code G2012-AD! To order, click here.
I hope you enjoyed the article. As an active member of the wrestling community, my goal is to grow this wonderful sport.
Thanks for reading! And as always, feel free to post comments or questions in the comments section below, I'll be happy to try and answer them as quickly as possible.