Wrestling Parents Develop a Growth Plan for Your Wrestler
If your a wrestling parent, have you thought about a growth and development plan for your wrestler? Most parents will put their kid in a sport with the only goal in life is to "Have Fun".
I agree with you that a kid needs to have fun in wrestling. On the other hand I believe that a kid should also grow and improve in a sport… otherwise why do it? as of this writing, my son has a growth an improvement plan for wrestling. I will admit that the plan hasn't been written in stone. Its more of a living document. Let's talk about growth plans for your little wrestler.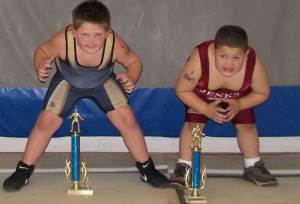 How to Improve Your Wrestler
I think a growth and development plan starts when a child is young. You should have season plans as well as plans five years in to the future. For example, my son started wrestling when he was five.
My goal for him at five was to get better and grow a love of the sport of wrestling. At six, the goal was to see him win a state championship… he took second. Even at 5, I had a long term growth plan. At 13 years old, that growth plan is still evolving. Now my son is working towards a goal of starting for one of the top wrestling programs in the nation as a freshman… we'll see.
Talk to your kid and have realistic shor term goals – Talk to your child and see where he/she is at. Work with your kid to develop reasonable and achievable goals for that wrestling season.
There is no sense in pushing your kid to be a state champion, if he or she is not capable of that goal. Maybe a realistic goal for your child will be don't get pinned in a national tournament OR don't get turn too your back OR maybe the goal is just to qualify for state. These wrestling goals may be to vague.
If you wanted to get more specific, you could set a goal of.. that your son master 3 takedowns from his feet and a stand up that can't be stopped. The important thing is to take the time to develop goals that your child can achieve.
Look Ahead and Set Goals for 2 to 5 Years – Just like anything in life, if you don't set long term goals in wresting, you can't expect much growth. These are goals that your child is not capable of in the current season.
For example, most kids that are on the bottom side of their division, will most likely NOT have a dominate wrestling season because they are younger. When my son was 9 and was wrestling 10 and under, he didn't win a lot of wrestling matches.
That season our short term goal was to focus on improving technique from his feet and from bottom. His two year wrestling goal was to be a trinity award winner and to be a state champion in the 10 and under division. His five year goal at nine, was to make the varsity junior high squad as an 8th grader.
Reevaluate your Goals Every Wrestling Season – Every wrestling season is different. Your son have have surpassed his original goals or he may still be working towards his goals that were set a couple of years ago. Take the time to make sure your goals are still achievable and your child is still growing in the sport.
Write Your Child's Wrestling Goals Down – a goal is just is just a dream until it is written down and you have put it to paper. After you write down your goals, put it up for your son to look at everyday. That way you child knows what to work for.
Develop and Action Plan – Now that you have created a growth plan for your wrestler, you need to determine how you are going to help your achieve his wrestling goals. Again, this will depend on what your goals are. Here are some examples
Example of Wrestling Goals

| | |
| --- | --- |
| Goal | How To Achieve it? |
| Win Tulsa Nationals | Go to the toughest wrestling tournaments you can find and wrestle all of them. |
| Improve Take down Techniques | Talk to your childs wrestling coach. Buy wrestling dvds to help you and your kids study new moves and work on them at home and practice. |
| Make the Varsity Wrestling Team | Identify weight class your going to wrestle. Study your team mates to identify weakness. Wrestle toughest kids on your team. |
Hopefully you get the idea. Once you identified your action plan, write those down next to your goals.
Now Work Hard to Achieve Your Goals in Wrestling
Here is where the fun part comes in. Be diligent in your work ethic and constantly keep those goals in mind. After the wrestling season is over, sit down and see how you did.
What Are Your Thoughts?
I hope you enjoyed the article and give some thought as a wrestling parent or a wrestler to setting tough but realistic goals for your wrestling season. Its hard to do, but it is well worth it in the long run when you have grown as a wrestler.
Do you have some feedback? We would love to hear from you. Post a comment and let us know what you think.