Wrestling Parents – Do NOT Force Your Young Wrestlers to Cut Weight
This last weekend, my son attended the USJOC wrestling tournament. During weigh in, there were probably 30 kids running around the arena trying to make weight. After being involved in wrestling for a long time, I know that this is normal for a national wrestling tournament.
What I really HATE to see – I also witnessed something that is also unfortunately normal. There was a very young wrestler… maybe seven years old. He was a little guy. He might have weighed 45 pounds. He was bundled up with jogging pants, hoodie, and coat and a hat on his head. The dad was screaming at his son to "RUN!!". The little boy ran faster, trying to please his father.
I believe parents like this are giving wrestling a bad reputation. Today, I'm going to try getting my point across about the negatives of a young wrestlers cutting weight.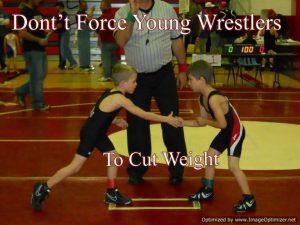 Really Young Wrestlers Don't Understand Cutting Weight
If you are one of those parents who are pushing your young wrestler to cut weight, I think you need to re-evaluate your priorities in life. I don't think that a wrestler under 10 years old understands weight cutting. If you have to scream at a 7 year old to make weight, I have to wonder whether you as a wrestling parent are pushing your child too hard.
Consider Bumping Your Little Wrestler up a Weight Class
My son is now in his 10th year of wrestling. One thing I have learned is that what a wrestler does when he is young means almost nothing. This is just practice for high school wrestling. Trust me your little wrestler will not even remember most of the wrestlers names from seven years old. You might give some consideration to bumping him up a weight class so you don't have to yell at him.
I'm not saying Cutting Weight is Always Bad
I realize that youth wrestlers cutting weight is a personal decision that a wrestling parent faces. There are times when this is ok. It really depends on the child. If the child is mature enough to lose weight then, then do so within reason. If you have to yell at your kid to watch what he eats, then it is safe to say your child is probably not mature enough to pull weight off.
If you and your Child Decide to Cut Weight
If you make the decision for your wrestler to cut weight, then here are some tips you should follow to make things easier on you and your child.
Read my others articles on weight loss – I have written several articles on weight loss. You can see check them out at the end of this article. Look for related articles at bottom of this page.
Buy a Good Digital Scale – If your child is going to cut weight, then buy a good digital scale. Make sure it is calibrated. Weigh your child daily and make sure he is underweight before going to a tournament.
Consider Taking off Work – If your child is only over a small amount of weight, you will need to keep a close eye on him. This means you may have to take off work and spend the day with him. If this is the case your child should be no more than a couple of pounds overweight. Keep him busy before weigh in so that he isn't focused on eating and drinking.
Practice what you preach –If it's close to weigh in and your child cannot eat or drink a couple of hours before weigh in, then neither can you! Set a good example for your child by showing him you are supporting him in his effort to make weight.
Do Not Come to a Weigh in Over Weight – This goes back to what I said about buying the scales. Know your child's weight a head of time. If your child is way over, you should probably consider taking the weekend off. Don't go to a weigh in, knowing your child is overweight and make him run to make weight at the tournament.
What are your Thoughts?
I hope you enjoyed the article. As an active member of the wrestling community, my goal is to grow this wonderful sport.
Thanks for reading! And as always, feel free to post comments or questions in the comments section below, I'll be happy to try and answer them as quickly as possible.