Folkstyle Wrestling More Exciting with the Push Out Rule
Folkstyle wrestling needs put the push out rule in effect. I believe this rule makes the sport of wrestling more exciting. I have been around wrestling for a long time. Over the years stalling on your feet has been common place.
When my son was in junior high, he wrestled in the USA/OK Folkstyle State Championships. The tournament had the push out rule in effect. This means it is applied the same as in greco and freestyle wrestling.
Today I would like to talk about the advantages of enforcing the push out rule for folkstyle(collegiate) wrestling.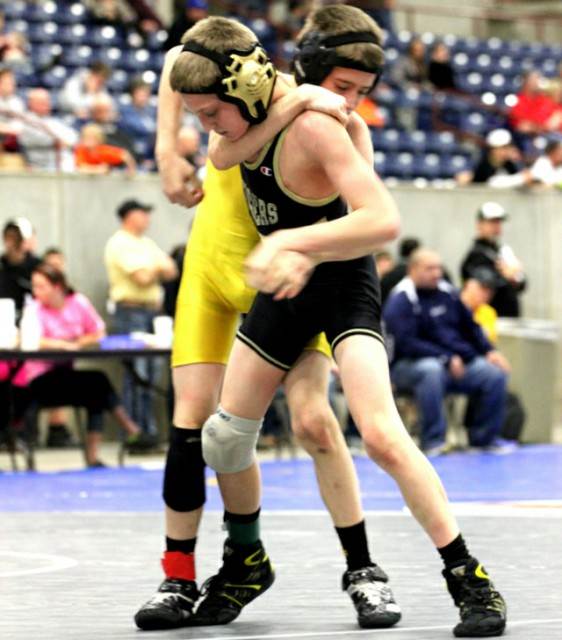 How the Push Out Rule Works
The push out rule works like this. Any time wrestlers start in a neutral position, the push out rule is in effect. If a wrestler is able to push a wrestler out of bounds, he scores one point. Here are the exceptions.
When does rule not apply?
any time wrestlers start in the referees position
if a wrestler is sprawled defending a takedown
The rule does apply to throws
If a wrestler is thrown out of bounds with a move like a headlock, lateral, etc. The wrestler does not score a take down, but does get one point for the push out.
Reduces Stalling on Your Feet
In modern wrestling, you see a lot of matches where a wrestler is constantly backing up out of bounds. The time is stopped and the match restarts in the center of the mat. A lot of wrestlers have learned the art of stalling with out getting called for stalling. There is no reward for the wrestler who is the aggressor.
If the push out rule is in effect, the aggressor is rewarded for going after his opponent. The push out rule drastically reduces the stalling that can be done from the neutral position, because a wrestler knows there is no where to hide on the mat to catch a break. If you stall with this rule in effect, you will most likely get scored on.
Teaches Wrestlers to Circle
This new rule would force wrestlers to learn how to circle on the mat. If you want to learn how to become a better wrestler, then learning to circle is important.
This is what coaches have been trying to teach wrestlers for years. This rule would help reinforce what wrestling coaches have been trying to teach. I firmly believe this would make wrestlers much better when they get to high school, college, or even the Olympics.
Wrestlers will learn New Strategies
This new rule would teach wrestlers to think differently. You would see a lot of wrestlers who learn to keep their back to the 10 foot circle. You would see wrestlers learn to throw an opponent knowing that even if they don't get the takedown, they still could be rewarded for the effort.
I know some would disagree, but I think a push out rule in folk style wrestling would make the sport more exciting.
Stay Updated
What do you think?
I honestly believe this rule would make the sport of wrestling much more action packed.
I hope you enjoyed the article. As an active member of the wrestling community, my goal is to grow this wonderful sport.
Thanks for reading! Post a comment at the end of this article and let us know what you think.
If you would like to stay updated, you can follow us on Facebook, Twitter, or subscribe to this blog. If you enjoyed the article, please share with the wrestling community.