Wrestling Matches are Won Before the Match Starts
Most wrestling matches are won OR lost before the match ever started. Don't get me wrong… a wrestling match can go either way, but the wrestler who is not afraid and told himself he will win is the one that usually wins the match. Let's discuss the mental aspect of winning and losing in wrestling.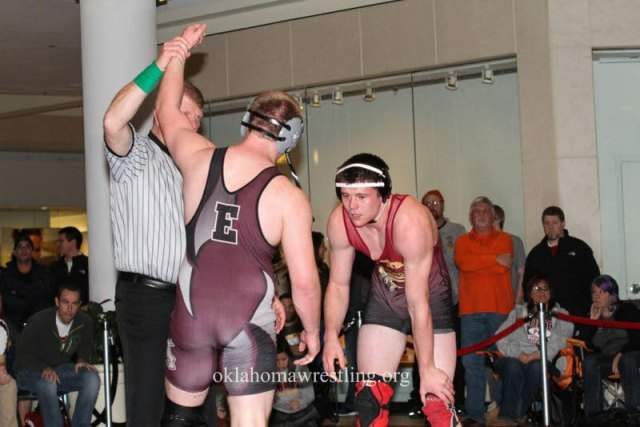 Mindset of a Winner
Winning wrestling matches is 90% mental and only 10% physical. Learning how to be a good wrestler requires the proper mindset before a wrestling match. You see yourself winning a match before you ever step on the mat.
What is the proper mindset?
A wrestler with a winning mindset believes they will win. They don't care who the opponent is. They don't care how big or strong the opponent is. A champion has pushed themselves in practice and they out train their opponents.
The best wrestlers see themselves with their hand being raised. Some wrestlers have that natural ability and others have to train their mind to think like a winner. The difference between someone that consistently succeeds and people that never seem to achieve their goals is a winning attitude. How does a wrestler develop a winning attitude?
Be Confident and Positive
A winning wrestler needs to be confident. Self confidence comes from a wrestler who has faced adversity and pushed through it. He knows he has worked hard. He is confident in his abilities as a wrestler. He does not allow doubt to enter his mind.
Use Positive Self Talk
Be positive to develop confidence. This means you have to use positive self-talk. You should tell yourself "I am going to win" and "I'm going to leave everything on the mat". Positive self-talk is something that applies not only to wrestling but to all aspects of your life.
You can always tell what a person believes by listening what a person says. Wrestlers are often taught to train hard, stay in shape, and improve their strength. Most wrestlers are never taught to use positive self talk to win more matches.
A a wrestler, you need to continually tell yourself you are going to win and you will believe it. You will be amazed at wrestling matches you will win using positive self-talk.
Avoid Negative People
There will always be people that will tell you that you can't beat a person OR will tell you how tough an opponent is.
The day that Larry Owings beat Dan Gable, I'm willing to bet there were only a handful of people that thought Larry could win that match. In fact, I'm willing to be there was a lot of negative people that told Larry there was no way he could be at Dan Gable. There is a great article on Intermat if you would like to read it.
My advice to you is DON'T listen to negative people that don't believe in you. In fact, you should avoid people like this. I'm a firm believer that the people that you associate with can help your wrestling career or prevent you from achieving greatness. I would suggest that you surround yourself with positive influences to develop a winning attitude.
Stay Updated
I hope you enjoyed the article. As an active member of the wrestling community, my goal is to grow this wonderful sport.
Do you have a comment you would like to share? We would love to hear from you. Post a comment at the end of this article.
If you would like to stay updated, you can follow us on Facebook, Twitter, or subscribe to this blog. If you enjoyed the article, please share with the wrestling community.